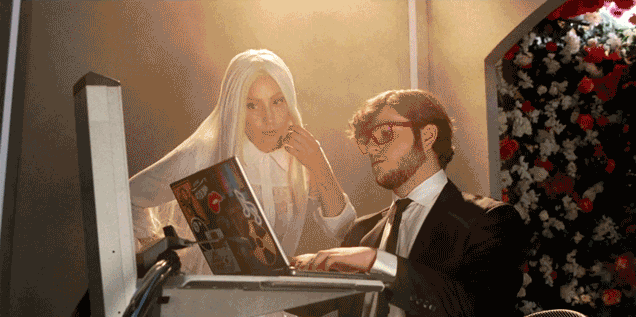 Lady Gaga has a wide range of interests — like being vomited on, for example. She's also a Minecraft fan, judging from her latest music video for G.U.Y — a single off her latest album, Artpop.
The GIF above is a sliver of a scene where Gaga uses Minecraft to, uh, revive Michael Jackson, Jesus, and Gandhi. Because video games, I guess. You can watch this bizarre scene unfold at about the 5:20 mark in the music video:
You might also note that the person who does the...hacking, I guess? Well anyway, he's mega-popular YouTube star, Sky Does Minecraft — and he's wearing Gunnar Optiks, the special eyewear designed to reduce eye strain while playing video games.
Of course, a cameo + Minecraft appearance like this may not be surprising to some of you, given that Lady Gaga has not only included video game references in previous videos — Bad Romance famously includes Wii nunchucks — but she's also tweeted about Minecraft before:
My friend @gunnarsJEM found this its #DOPE — — -> Born This Way #MINECRAFT Parody is aces. http://t.co/hBjLgnGgzR Still dusting my craftskilz

— Lady Gaga (@ladygaga) January 22, 2014
I wonder what else she plays?
(Via Daily Dot)