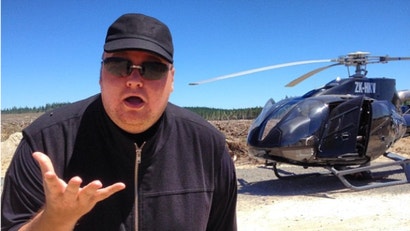 Kim Dotcom is a big Call of Duty fan. His love for the game is so intense that he still promotes his efforts reaching the top of the Modern Warfare 3 leaderboards on his personal page. The occasion was even marked with confetti and a special cake sporting his gamertag, MEGARACER.
The German-Finnish entrepreneur is getting more involved in professional Call of Duty, however, with an Australian team announcing this evening that the MEGA founder was officially supporting their endeavours.
Tainted Minds, one of the teams competing in Melbourne's Crown Invitational exhibition this weekend, announced the news over Twitter with a simple statement.
We are proud to have our friend @KimDotcom's support leading into the Crown Invitational this weekend. pic.twitter.com/MPFPiX4XjM

— Tainted Minds (@TaintedOrg) April 5, 2016
In a statement provided to Kotaku Australia, the team said that the partnership arose from a personal friendship between one of the team's players — Reef "Eminence" Galloway — and Kim Dotcom.
"[Dotcom] has a long standing friendship with one of our players Reef 'Eminence' Galloway who up until last year was living with him," Tainted Minds said. "Kim wants to see Reef achieve success as much as all of us here at Tainted Minds and ever since Reef's move to join us, Kim has been a supporter of the brand."
The two became friends after racing each other in free-for-all servers to get to the top of the leaderboards. Dotcom eventually reached the peak of the leaderboards for Call of Duty: Ghosts on console, matching his efforts a few years prior for Modern Warfare 3.
Call of Duty - Ghosts
20 hours of gaming
Blisters on my thumbs
Number One - AGAIN!
> pic.twitter.com/hbCZXbCtiZ

— Kim Dotcom (@KimDotcom) November 5, 2013
When I asked Galloway how he came to live with Dotcom, the player said he began communicating with the internet entrepreneur more after New Zealand's elections. "He invited me over for a few days to grind with him," the Tainted Minds player said.
"Not long after we did a huge live stream for the launch of Advanced Warfare at the Mansion and basically since then i've been staying with him." Galloway now resides in Auckland City, after Dotcom vacated his mansion.
He's been visible in Dotcom's social media channels throughout, however. After losing a dare last year, Dotcom posted a photo of Galloway with a predominately shaved head as a reference to Caitlyn Jenner. More recently, Galloway has featured on the MEGA founder's Instagram account in various short videos.
According to the team, Dotcom's support is in the form of discounted airfares and accommodation. "Our affiliation with Kim is that he is helping us through his network of contacts to get discounts on flights and accommodation for upcoming events to make it more affordable for us to send our teams to as many events as possible."
We've reached out to Kim Dotcom for further comment.