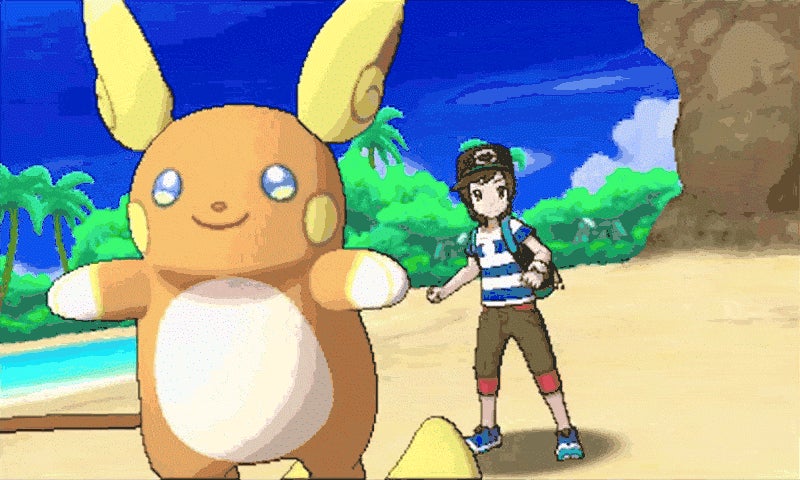 Surfing Raichu! Last night, we got confirmation that Raichu's Alola incarnation is real in Pokemon Sun and Moon, but ever since the leaks hit, people have been fascinated with the character's new surfing form. [Image: Pokemon YouTube]
OK, OK. It looks more hovering than riding the waves, but who cares? This is ELECTRIC SURFING.
トレンドに「ライチュウ」が入っている!
アローラライチュウそのものもすごいけど、ライチュウがこんなにも注目されているというミラクル!!
みなさん、もうスクリーンショットはしましたか? pic.twitter.com/tS7lDunodZ

— カフェ (@Cafe_Raichu) August 11, 2016
And surfing on its tail! Genius.
No wonder "Raichu" (ライチュウ) started trending in Japan. The fan art, however, has been global.
ALOLAN RAICHU
HELLO?
ELECTRIC/PSYCHIC?
IT'S SURFING
WHAT IS HAPPENINGhttps://t.co/RQCUxZNup3 pic.twitter.com/ovB2D9iJ9f

— Moxie (@moxie2D) August 11, 2016
Finally, Raichu gets some damn respect pic.twitter.com/U1NYct4nXn

— Mary Cagle (@cubewatermelon) August 10, 2016
There's fan art of Alola form Raichu already pic.twitter.com/nMsLQBug6l

— AllGamesDelta (@AllGamesDelta) August 10, 2016
I couldn't help it! I needed to make the new Alola form Raichu from #PokemonSunMoon! It's so freakin cute! #pixelart pic.twitter.com/YxMEcdLGWi

— Adam Meredith (@MrAdamMeredith) August 10, 2016
いろんなアローラライチュウを妄想して絵にしようと思ってたけど、まさか本当に現れるとは…!!
最近のライチュウの優遇っぷりはこの布石だったのですね、アロライさん! pic.twitter.com/sDeBRu1Tq7

— カフェ (@Cafe_Raichu) August 11, 2016