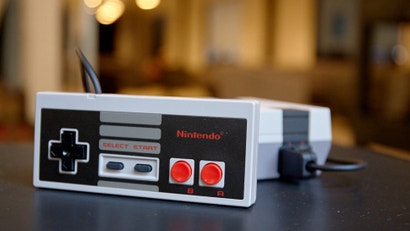 If you missed out on the first round of pre-orders for the Mini NES, then today's another chance to jump on the classic Nintendo train.
Update (12:07 PM): Surprise! The EB site is down:
They're also telling users via Twitter that they're working on getting the site back up. Keep trying, people.
@Leirith Limited stock + extremely high demand. There is no perfect way to do it. Working on the website now.

— EB Games Australia (@EBGamesAus) November 14, 2016
The official EB Games Twitter account announced late on Friday that pre-orders would be opening today, and over the weekend they began officially marketing things on their website as well.
If you want to get in on the second shipment of Nintendo Classic Mini NES consoles, you'll be able to pre-order through here from noon (or 12:00 PM) Sydney time. For those not in Sydney, Hobart or Melbourne: it all kicks off at 11:30 AM in Adelaide, 10:00 AM in Perth, and 11:00 AM in Queensland.
To increase your chances, you'll also probably want to create an EB World account. It's not necessary, but at least that way you can have your shipping and billing details saved which will speed up the whole buying process a lot faster. And given that the second shipment of Mini NES units aren't expected to last longer than a few minutes, you'll want to move quickly.
Again, it'll cost you $99.95 for the Mini NES sans shipping. Accessories and USB cables longer than your pinky finger are not included.