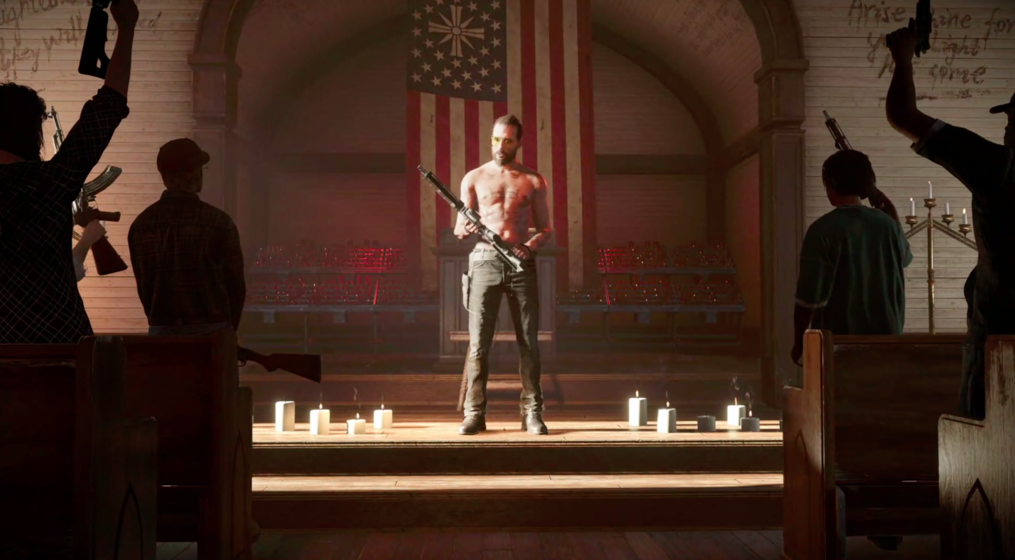 Today, Ubisoft showed off some proper footage from Far Cry 5, its upcoming first-person shooter about liberating an American community from an extremist Christian militia. The new footage featured the game's "guns for hire" system: Fleshed-out NPCs who back up players with unique skills such as sniping and driving a helicopter.
Far Cry 5
Here's Far Cry 5's new gameplay trailer:
Far Cry's latest installation, slated for a February 2018 release, is a departure from every previous Far Cry game — in locale more than gameplay. It takes place in modern Hope County, Montana as opposed to the far-flung Himalayas or Central Africa. In Far Cry 5's Hope County, a hyper-religious militia has taken root under the auspices of "The Father" Joseph Seed, essentially an extremist cult leader. Locals are faced with the decision to join Seed's movement or die.
Far Cry 5 can be played single-player or two-player co-op. The player is a deputy sheriff tasked with arresting Seed. In terms of gameplay, Far Cry 5 promises more melee weapons than in iterations past. Pitchforks, baseball bats and sledgehammers will feature prominently.
Today, Far Cry 5 producer Dan Hay introduced E3 viewers to the new gameplay clip's setting: "[D]eep in cult territory, cut off from the rest of the world. They closed the roads. There's no cell phone signal, no 911. People are fucking scared." Much of the game depends on how many allies a player can convince (or hire) to help them unhinge Seed's death grip on Hope County. NPCs with their own backstories will assist players by sniping from high ground, shooting from a helicopter or driving their truck into a violent cult action. Today's footage also showed off Boomer, a dog who both mauls enemies and fetches their guns for you.
Several Far Cry games address semi-contemporary political issues, like Nepal's Maoist insurgency or civil war in Central Africa. Far Cry 5's focus on hyper-religious pockets of America echoes recent nationalist movements such as Ammon Bundy's occupation of an Oregon wildlife refuge. Producer Dan Hay said during a May press event, "I began to get the sense that America was ready for a Far Cry... In the last year and a half I got that feeling back like we're riding a wave and something is going to happen. Like there's going to be a calamity and going to be a collapse."