A new year is upon us, filled with new opportunities and new hopes … and lots of new comics for you read instead of fulfilling those new opportunities and hopes. Unless they were "read more comics," because boy howdy, do we have some new series we're looking forward to in the first few months of the year to show you!
---
January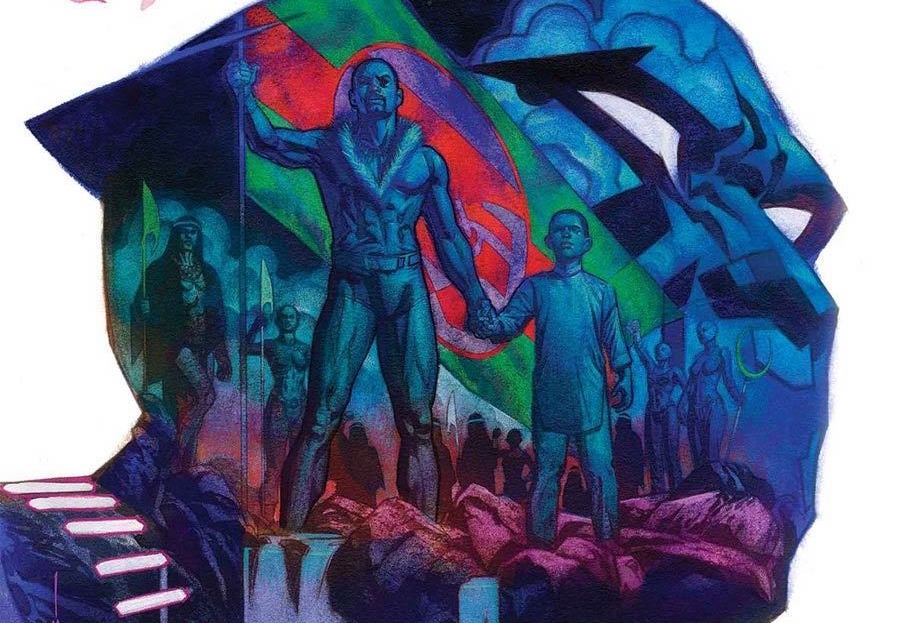 Marvel
Rise of the Black Panther #1 — We're quickly coming up on the long-awaited Black Panther film out later this year which means it's an excellent time to learn about how T'Challa, like his father before him, became Wakanda's king. Much of T'Challa's life as a young king has, up until this point, been shrouded in mystery — mystery Rise of the Black Panther will begin to uncover. Full disclosure: Our good friend and io9 writer Evan Narcisse wrote this! (Ta-Nehisi Coates, Evan Narcisse, Paul Renaud, Brian Stelfreeze)
Rogue & Gambit #1 — Out of the many X-Men who've fallen in love with one another over the years, there's perhaps no greater romance than the one between Rogue and Gambit. Sure, they have had their fallings out in the past, but when Kitty Pryde sends the pair of an undercover mission to locate a group of kidnapped mutants, the two heroes find that there's still plenty of passion between them. (Kelly Thompson, Pere Perez, Kris Anka)
Inhumans: Judgement Day #1 — Ever since the Inhuman Royal Family made the decision to destroy the world's only source of Terrigen — the substance that imbues them with their powers — they have been on a desperate mission to locate Primagen, a primordial version of Terrigen that could save them from extinction. When they find it, though, a race of ancient beings known as the Progenitors will stop at nothing to take back what was stolen from them. (Al Ewing, Mike del Mundo, Daniel Acuna)
Legion #1 — David Haller's never had much success containing and controlling his dissociative identity disorder and the multiple superpowers that come with each new personality. But when a new alter-ego manifests and begins to seemingly kill off the others, absorb their powers, and threaten to take over David's body permanently, he seeks out the only psychotherapist who may be able to save his life. (Peter Miligan, Wilfredo Torres, Javier Rodriguez)
Marvel's Avengers: Infinity War Prelude #1 — With every new Marvel film comes a tie-in comic book meant to help catch everyone up on what's been going on in the MCU. Normally these comics tend to be rather fast and loose with their canon, and sometimes the information contained in them ends up being contradicted by the film itself, but from the sounds of it this will be retelling much of Captain America: Civil War. (Will Corona Pilgrim, Tigh Walker, Ryan Meinerding)
X-Men: Blue Annual #1 — It feels like it was only yesterday when the five original X-Men from the past were flung into the present day, only to find the world where Jean Grey had died and Cyclops killed Professor X. In the team's first annual, they're joined by Eddie Brock as Venom for a trip into space to — drumroll, please — save the galaxy. (Cullen Bunn, Edgar Salazar, Nick Bradshaw)
Old Man Hawkeye #1 — In a dystopian future where most of the Avengers are dead and the country is controlled by supervillains, Old Man Hawkeye tells the story of an elderly Clint who sets out to, well, avenge his fallen teammates before he loses his eyesight. (Ethan Sacks, Marco Checchetto)
X-Men: Gold Annual #1 — In celebration of her becoming the X-Men's newest leader, Kitty Pryde is on her way to London for a long-overdue Excalibur reunion. The cause for celebration? Brian and Meggan are having a baby. (Marc Guggenheim, Leah Williams, Alitha Martinez, Alan Davis)
Star Wars: The Last Jedi: DJ #1 — Since he only played a small role in The Last Jedi, it's clear that there's a lot we never got to learn about Benecio del Toro's character DJ. Set before the events of the film, this new comic follows the slier over the course of a single day of his life. (Ben Acker, Ben Blacker, Kev Walker, Jeff Dekal)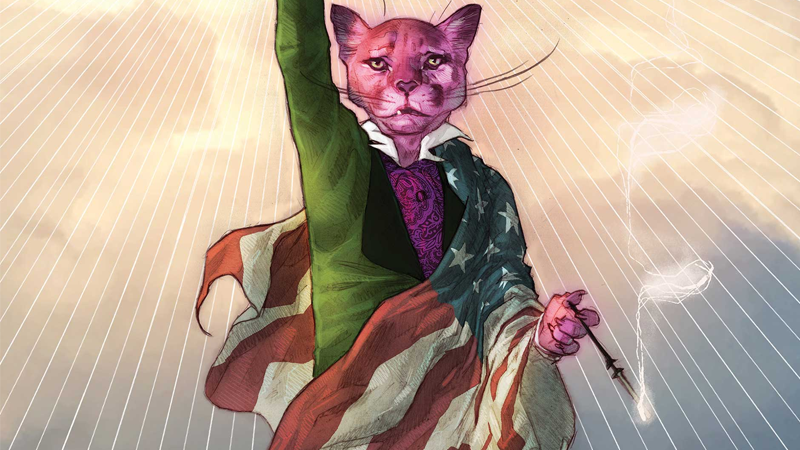 DC
Batman and the Signal #1 — Despite being the world's greatest detective, Batman can't be in all places at all times. When a wave of young metahumans begin to suddenly manifest throughout Gotham, Batman recruits his newest protege Duke Thomas to patrol the city in the daytime and help him investigate what's causing the spike in meta activity. (Tony Patrick, Scott Snyder, Cully Hamner, Declan Shalvey)
Exit Stage Left: Snagglepuss Chronicles #1 — Following in DC's excellent tradition of reimagining classic Hanna-Barbera characters as wildly different versions of themselves, Exit Stage Left tells the story a Snagglepuss, depicted here as a closeted gay man and famous playwright. Set in 1953 at the height of McCarthyism, Snagglepuss becomes the latest target of the House Committee on Un-American Activities as it seeks to oust subversive voices from show business. (Mark Russell, Mike Feehan, Ben Caldwell, Evan "Doc" Shaner)
Raven, Daughter of Darkness #1 — As much good as Raven's done for the world, she really can't seem to get a break. In this all-new miniseries, the daughter of the demon Trigon is forced to confront yet another magical threat from another dimension while also trying to balance her personal life when her mother and aunt go to battle over a soul. (Marv Wolfman, Pop Mhan, Yanick Paquette, Bill Sienkiewicz)
Deathstroke Annual #1 — Slade Wilson's been trying to atone for the crimes he committed as a supervillain by working with a group of young heroes collectively known as Team Defiance. But when one of the team members suddenly dies, Slade is left saddled with the blame and the shock of the death threatens to tear the team apart. (Christopher Priest, Bill Sienkiewicz, Denys Cowan, Ryan Sook)
Detective Comics Annual #1 — This year's Detective Comics Annual reveals the tragic backstory of Basil Karlo, the famous actor who would go on to become the villain Clayface after a horrific accident transforms into the clay-like monster. (James T Tynion IV, Eber Ferreira, Eddy Barrows)
The Flash Annual #1 — In preparation for its upcoming Flash War event later this year, DC's Flash Annual moves all of its key players into place for the ultimate showdown between Barry Allen and Wally West to see which Flash is the fastest. (Joshua Williamson, Christian Duce Fernandez, Howard Porter)
JLA/Doom Patrol Special #1 — When the Doom Patrol discovers that a shady interdimensional company has been stealing stories from various realities in order to repackage and sell them for mass entertainment, they're shocked to find that the Justice League have all been transformed into eerie, sanitised versions of themselves: Superman as a milkman, Wonder Woman as a homemaker, and Batman as a preacher. (Gerard Way, Steve Orlando, ACO, Frank Quitely, Magdalene Visaggio, Sonny Liew)
Silencer #1 — It's always fantastic to see a new character starring in their own series especially one with a story like Honour Guest's. Long before she became an average citizen, Honour was one of world's deadliest assassins that no one knew about. But when Talia Al Ghul shows up on her doorstep, demanding her assistance on a new mission, Honour's sucked back into the life she fought so hard to leave behind. (Dan Abnett, Sandra Hope, John Romita, Jr.)
Swamp Thing Winter Special #1 — Though he's one of DC's most powerful elementals, Swamp Thing is extremely out of his depth when he realises he must help a young boy find his way home through a terrible blizzard. Besieged by a murderous snow beast and freezing, the pair must rely on one another if they have any hope of survival. (Tom King, Len Wein, Jason Fabok, Kelley Jones)
Motherlands #1 — Motherlands imagines a far-flung future in which the existence of the multiverse is widely known and a new breed of interdimensional super criminal have sprung up to take advantage of the interconnectedness of the infinite Earths. But along with the new super criminals, Motherlands also tells the stories of the new class of heroic bounty hunters who'll stop at nothing to keep the multiverse relatively safe. (Simon Spurrier, Rachael Stott, Eric Canete)
Image
Ice Cream Man #1 — This collection of separate one-shots are all connected by music, suffering, and a titular ice cream man who encounters a variety of different people who're all just trying to make it through life with their souls and sanity intact. It's unclear whether this ice cream man is a regular human or something more… divine. (W. Maxwell Prince, Martin Morazzzo)
Dissonance #1 — Set in a fantastical world populated by powerful human-spirit hybrids known as Fantasmen, Dissonance tells the story of Folke and Roisia Herviett, two siblings who can't see eye to eye, but are forced to work together as replacements for their parents as members of a shadowy cabal that controls the world. (Melita Curphy, Singgh Nugroho, Sam Basri)
Days of Hate #1 — The United States of America in 2022 is a country at war with itself. White supremacists are ascendant and a police state is in effect. Days of Hate isn't your classic kind of dystopia, but it's one that feels all too real. (Ales Kot, Danijel Zezelj, Jordie Bellaire, Tom Muller)
The Further Adventures of Nick Wilson #1 — What becomes of a nationally-beloved superhero who suddenly loses his powers and the fame that came along with them? If they're anything like Nick Wilson, they sink into a premature midlife crisis and struggle to figure out what the hell to do with their lives now that they're garden-variety humans again. (Eddie Gorodetsky, Steve Sadowski, Pete Woods)
Postal: Mark #1 — Following the events of Postal, this one-shot catches up with Mark Shiffron, the postmaster of a small town in Wyoming where criminals gather to try and start new lives for themselves. (Matt Hawkins, Raffaele Ienco)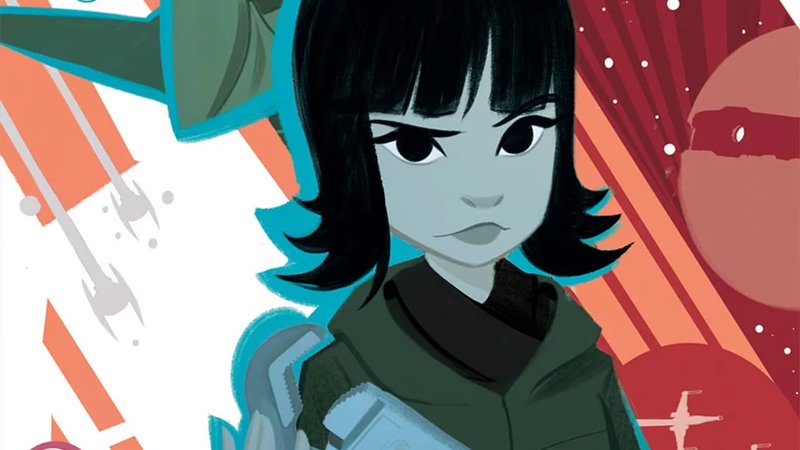 IDW
Star Wars: Forces of Destiny — IDW's Star Wars: Forces of Destiny is a collection of stories set in the Star Wars universe that are meant to give readers new insight to a series of female characters we've previously met across the span of the franchise. Here are the heroes who are getting all-new adventures:
Forces of Destiny: Leia #1 (Elsa Charretier)
Forces of Destiny: Rey #1 (Jody Houser, Arianna Florean, Elsa Charretier)
Forces of Destiny: Hera #1 (Devin Grayson, Eva Wildermann, Elsa Charretier)
Forces of Destiny: Ahsoka & Padme #1 (Beth Revis, Valentina Pinto, Elsa Charretier)
Forces of Destiny: Rose & Paige #1 (Delilah S. Dawson, Nicoletta Baldari, Elsa Charretier)
Walt Disney Showcase #1: Donald Duck — It's weird when you realise that even though he's always worn his signature sailor suit, it's rare that you actually see Donald Duck actually, like, in the water, let alone sailing a boat. In this new comic, Scrooge McDuck demands that Donald proves that he deserves to wear his sailor outfit by making him the captain of a luxury cruise liner filled with billionaires. (Rudy Salvagnini, Lara Molinari, Andrea Freccero)
Tangled #1 — Rapunzel and Eugene are back for a new series of adventures set after the end of Tangled. Of the many things worth looking forward to about this series, the story of how the princess' magical locks managed to grow back after being snipped is fairly high on the list. (Scott Peterson, Roberto di Salvo, Diogo Saito)
Transformers vs. the Visionaries #1 — When the magic-wielding Visionaries arrive on Cybertron, the Transformers are unsure what to make of the foreigners. With their impressive mystical abilities, the Visionaries could become powerful allies or the arbiters of Cybertron's ultimate destruction. (Magdalene Visaggio, Fico Ossio, Andrew Griffith)
Stretch Armstrong & Flex Fighters #1 — Stretch Armstrong is back in action and he's brought a couple of friends along with him. The flexible hero and his stretchy teammates must use their powers to ascertain whether an all-new threat to their city is actually as dangerous as everyone thinks. (Kevin Burke, Nikos Koustis, Aluir Amancio)
Gears of War: Rise of Raam #1 — This comic will tell the origin story of General Raam, the vicious and deadly leader of the Locus military. Set before the events of the video game, we'll see how Raam worked his way up through the ranks before becoming the mass killer we know him to be. (Kurtis J. Wiebe, Max Dunbar, Ryan Brown)
Dark Horse
Koshchei the Deathless #1 — Long before he was enslaved by the Russian witch Baba Yaga to kill Hellboy, Koschchei the deathless lived a rich and fulfilling life, the details of which have been a mystery up until now. This new series will follow along as he unknowingly approaches his fate. (Mike Mignola, Ben Stenbeck)
Vinegar Teeth #1 — When the citizens of brick city suddenly begin to turn to lives of crime en masse, it's up to detective Artie Buckle and a strange, tentacled being from another dimension to investigate what's gotten into people. Unbeknownst to them, there's a much larger threat behind the strange events plaguing the city. (Damon Gentry, Troy Nixey)
Hungry Ghosts #1 — What happens when 100 of the finest chefs in the world tell one another ghost stories? Hungry Ghosts. Inspired by the game Hyakumonogatari Kaidankai, which was popular during Japan's Edo period, the comic will remix and reimagine a number of classic Japanese ghost stories featuring yokai, yorei, and obake with a series of food-based stories. (Anthony Bourdain, Alberto Ponticelli)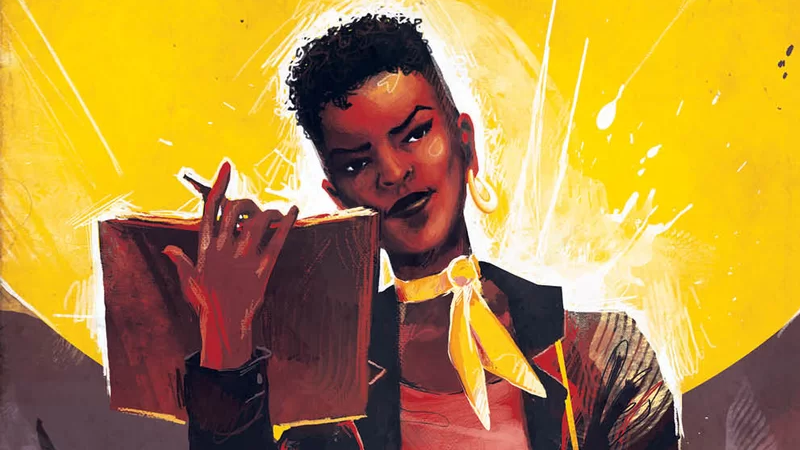 Boom! Studios
Abbott #1 — A hardboiled investigator goes after the supernatural crimes the Detroit Police have given up on solving in order to find out more about the mysterious forces that took her husband from her. (Saldin Ahmed, Sami Kivelä)
Planet of the Apes: Ursus #1 — Though General Ursus is one of the most feared villains from the Planet of the Apes franchise, we've never quite seen how he came to loathe humanity. Here's how Ursus worked his way up through the military and what first brought him to the Forbidden Zone. (David F. Walker, Christopher Mooneyham)
WWE Royal Rumble 2018 Special #1 — The Royal Rumble is a longstanding WWE tradition and this comic takes a look back at some of the most classic matches and transforms them into an overarching narrative full of soaring heights, dark lows, and an autobiographical story penned by wrestler A.J. Styles. (Ryan Ferrier, Kendall Goode, AJ Styles, Xermanico)
Valiant
Secret Weapons #0 — Set before the events of Harbinger, Secret Weapons depicts Toyo Harada's Harbinger Foundation before it was ultimately destroyed by Peter Stancheck. Secret Weapons' latest prequel series will tell the story of high school senior Nikki Finch, one of the first psiots activated by Harbinger who has the ability to… communicate with birds. (Eric Heisserer, Artist Adam Pollina)
Ninjak vs. The Valiant Universe #1 — The Valiant universe is filled with all manner of heroes and villains with a diverse array of devastating superpowers. With that in mind, it will be fascinating to see how a man whose only real "superpower" is his mastery of various martial arts is going to take on a world full of proper metahumans. (Eliot Rahal, Joe Bennett, Mico Suayan)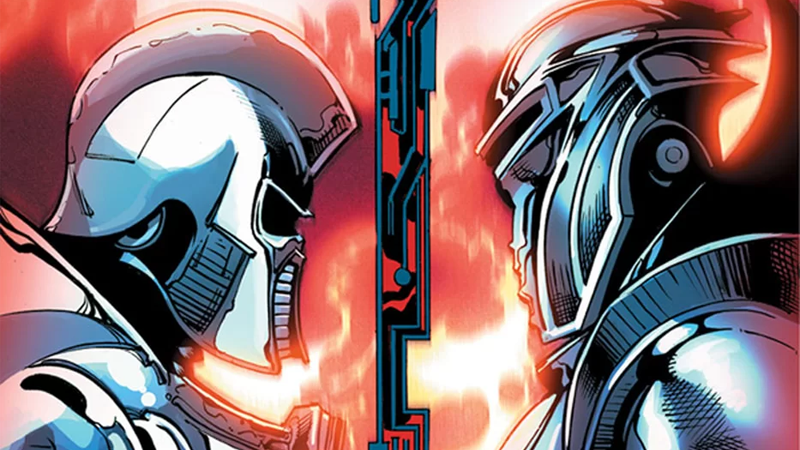 Dynamite Entertainment
BSG vs. BSG #1 — Two generations of BattleStar Galactica will collide in a new series in which both teams somehow encounter one another despite the latter being a reboot of the former. (Peter David, Johnny Desjardins, John Cassaday)
James Bond: The Body #1 — Though we're most used to seeing James Bond in the throes of battle, The Body is set after Bond's latest mission during one of his routine medical exams to heal the damage he takes in the field. With every cut, bruise, and broken bone, there's another story about how Bond walked away from the fight while his opponent did not — and Bond decides to tell his doctor about them all. (Ales Kot, Luca Casalanguida)
Titan
Warhammer 40,000: Deathwatch #1 — This four-part miniseries will take us back to the world of Warhammer 40,000 where space marines do battle with a new wave of Ork fighters who draw the Deathwatch into yet another bloody, brutal conflict. (Aaron Dembski-Bowden, Ørjan Svendsen, Fabio Listrani and Tazio Bettin)
Assassin's Creed: Origins #1 — This direct tie-in to the Assassin's Creed video game franchise will tell the unexplored story of how the creator of all assassins first came to develop the creed that would change the world. Each comic comes with a redeemable code that unlocks new digital content. (Anne Toole, PJ Kalowa, Stephanie Hans)
---
February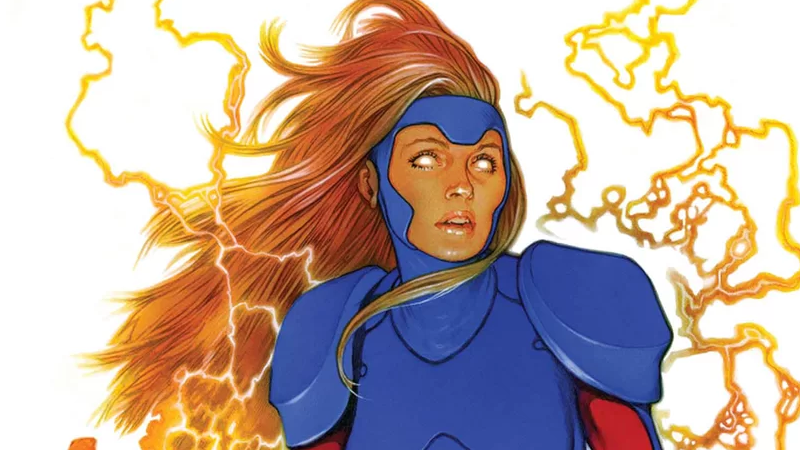 Marvel
Black Panther: Sound and Fury #1 — In the past, Black Panther and Ulysses Klaw have fought primarily because of Klaw's repeated attempts at invading Wakanda and stealing the country's supply of vibranium. In this all-new story, the villainous Klaw has his sights set on Dubai and T'Challa's hot on his tail to ensure that the foreign country is safe from harm. (Ralph Macchio, Andrea Di Vito)
Infinity Countdown: Adam Warlock #1 — Adam Warlock is returning to the land of the living and, together with Kang the Conqueror of all people, he's searching for the most malevolent of the legendary Infinity Stones: the Soul Gem. (Gerry Duggan, Aaron Kuder)
X-Men: Red #1 — We all knew this day would come. The original, fully grown-up version of Jean Grey has been resurrected once again and this time around, she's putting together an unlikely team of X-Men to help her face an all-new evil that would see Charles Xavier's legacy burned to the ground. (Tom Taylor, Mahmud A. Asrar, Travis Charist)
Doctor Strange: Damnation #1 — It's good to see that characters in Marvel's comics are still grappling with the fallout of Secret Empire. After the then-evil Captain America laid ruin to Las Vegas in a show of strength, it took Doctor Strange's powerful magic to restore the city of sin to its former glory. Turns out Strange's magics also provided a chance for Mephisto to return. (Donny Cates, Nick Spencer, Rod Reis, Ron Lim, Greg Smallwood)
Black Panther Annual #1 — Three of the writers responsible for some of the most seminal Black Panther stories in the character's history are travelling back to Wakanda to celebrate the character. (Don McGregor, Daniel Acuna, Christopher Priest, Mike Perkins, Reginald Hudlin, Ken Lashley)
Lockjaw #1 — It's about damn time that Lockjaw, the best of the Inhumans, got his own series. When Lockjaw discovers that his long-lost brothers and sisters are in grave danger, he springs into action to find them and learn whether they, like he, have been blessed with fantastic Inhuman abilities. (Daniel Kibblesmith, Carlos Villa, Ed McGuinness, Gustavo Duarte, Ron Lim)
Infinity Countdown Prime #1 — The Infinity Stones have each found a new owner in Old Man Logan, Gamora, Captain Marvel, a Super-Skrull, Loki, and Magus, a version of Adam Warlock from another reality. How the Stones' new owners will come into contact with one another remains to be seen, but it's safe to bet that Thanos is going to show up at some point. (Gerry Duggan Mike Deodato Jr.)
Star Wars: Thrawn #1 — Grand Admiral Thrawn is one of the most feared people in all of Star Wars' galaxy far, far away and this new series will chronicle how he became one of the Imperial Army's most ruthless tacticians. (Jody Houser, Luke Ross, Franchesco Mattina, John Tyler Christopher)
DC
Sideways #1 — Following the events of Dark Nights: Metal, Sideways tells the origin story of Derek James, a high school junior who learns that he's a metahuman with the power to travel through alternate realities after accidentally falling through a dimensional tear into a universe made purely of dark matter. As fantastic as his powers are, every time Derek uses them, the fabric of reality itself is frayed — something that won't go unnoticed for long. (Dan DiDio, Justin Jordan, Kenneth Rocafort)
The Terrifics #1 — Mr. Terrific, Metamorpho, Plastic Man, and Phantom Girl walk into a bar and realise that they'd make a fantastic foursome or, you know, a team of terrific heroes. The team comes together following Dark Nights: Metal, when they're forced to rely on one another in order to escape the Dark Multiverse.
Mother Panic/Batman Special #1 — Following the events of JLA/Doom Patrol Special #1, Mother Panic returns to Gotham City only to discover that it's nothing like what she remembers. Gone is the Dark Knight; in his place is the oddball Father Bruce, an orphaned millionaire who gives back to the city by keeping it supplied with fresh, young sidekicks. (Jody Houser, Ty Templeton, Magdalene Visaggio, Sonny Liew, Frank Quietly)
Shade, the Changing Girl/Wonder Woman Special #1 — Shade, the Changing Girl is split into multiple versions of herself, each representing a single emotion she feels, and all of them live to serve Wonder Wife, a June Cleaver-esque version of Wonder Woman. But as Happy Shade wanders through Wonder Wife's Wonderland, she slowly begins to realise that this paradise might not be all that it seems. (Cecil Castellucci, Mirka Andolfo, Magdalene Visaggio, Sonny Liew, Frank Quitely)
Cave Carson Has a Cybernetic Eye/Swamp Thing Special #1 — While "Milk Wars" will transform DC's trinity into versions of themselves unlike anything we've seen before, the actions of the evil organisation RetCo won't go unnoticed by Swamp Thing, who detects a disturbance in The Green. Ever the hero, Swamp Thing journeys to RetCo's headquarters where he discovers that Cave Carson is the company's latest target. (Jon Rivera, Langdon Foss, Magdalene Visaggio, Sonny Liew, Frank Quitely)
Doom Patrol/JLA Special #1 — Once the Young Animal and Justice League teams manage to break free from RetCo's altered reality, they realise that there's one "hero" left standing that it's going to take everything to beat: Milk Man, a version of Superman that's as American as apple pie. The final act of the "Milk Wars" event will establish entirely new realities for DC's comics and give a new start for Young Animal. (Gerard Way, Steve Orlando, Dale Eaglesham, Frank Quitely)
Batman: Sins of the Father #1 — Set in the same world as Telltale's excellent Batman games, Sins of the Father #1 will detail what happened in Gotham between the two releases. When the surviving family members of people who were forcibly institutionalized in Arkham at the behest of Thomas Wayne decide to sue Bruce for wrongful deaths, it's up to the Dark Knight to uncover the truth about what went down. (Christos Gage, Raffaele Ienco)
The Brave and the Bold: Batman and Wonder Woman #1 — Following in the long tradition of Batman teaming up with DC's other heroes for fascinating side adventures, Bruce and Diana investigate the odd happenings across the world in the wake of an ancient Celtic god's death. (Liam Sharp)
Young Monsters in Love #1 — In a Valentine's Day special like no other, DC's demons, monsters, and ghouls find true romance with one another because hey, just because you're undead doesn't mean that you can't appreciate a little TLC. (Mark Russell, Steve Orlando, Jeff Lemire, James Robinson, Paul Dini, Phil Hester, Alisa Kwitney, Kyle Higgins, Kelley Jones, Frazer Irving, Guillem March)
Mera: Queen of Atlantis #1 — As the great Atlantean Civil War rages beneath the ocean, the exiled queen Mera sets out in her very first solo mission: an epic battle with her brother-in-law the Ocean Master, who sees his country's turmoil as an opportunity to reassert his claim to the throne. (Dan Abnett, Lan Medina, Nicola Scott, Stanley "Artgerm" Lau)
Deathbed #1 — When the world's greatest adventurer suddenly reappears after going missing for 20 years, an intrepid novelist-turned-reporter sets out to track the man down in his castle abode and learn where he's been for the last two decades. (Joshua Williamson, Riley Rossmo)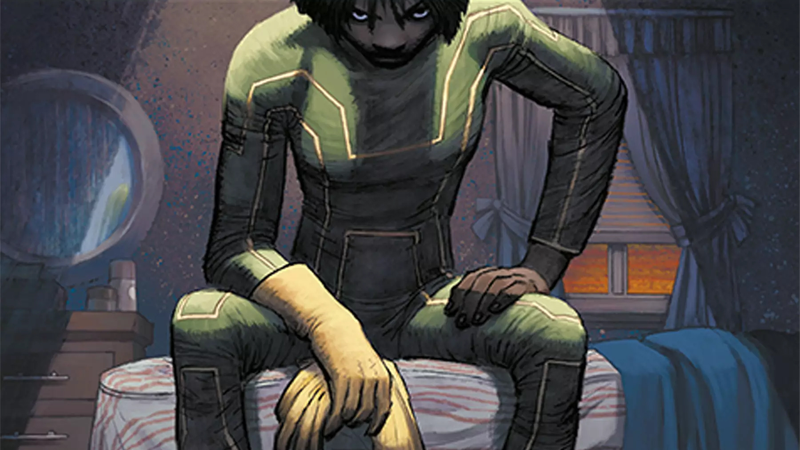 Image
Kick-Arse #1 — Kick-arse is back, but Dave Lizewski is no longer under the green-and-yellow mask. So who is Patience Lee, and why has she taken on Dave's former mantle? (Mark Millar, John Romita Jr.)
Hit-Girl #1 — Mindy's back in action as Hit-Girl, but this time it's a solo operation, and she's taking on the world in an international crime-fighting spree. First up? Colombia, on the hunt for a hitman on behalf of a vengeful mother. (Mark Millar, Ricardo Lopez Ortiz)
VS #1 — In a world where war is a galaxy-wide spectator sport, a fresh gladiator on the battlefield encounters the highs and lows of galactic fame. (Ivan Brandon, Esad Ribic)
Death of Love #1 — Philo Harris gains the power to see the cupidae, the angelic beings that dictate love and relationships on Earth. Armed with a chainsaw and a wealth of very bad decisions, Philo finds himself thrust into a violent conflict with the cherubic matchmakers. (Justin Jordan, Donal Delay, and Omar Estevez)
IDW
Punk's Not Dead #1 — Bullied teen Fergie finds she has the ability to see ghosts. Or at least, one ghost in particular: the spirit of a deceased punk rocker named Sid, who is bound to Fergie's new powers. (David Barnett, Martin Simmonds)
G.I. Joe vs the Six-Million Dollar Man #1 — Cobra has hacked Steve Austin, the Six-Million Dollar Man! Only the world's most patriotic heroes can battle the cyborg in a bid to preserve world peace. (Ryan Ferrier, S.L. Gallant)
Optimus Prime Annual — Thundercracker finally has his moment to shine, and the funding to make the movie he's always wanted. The problem? The movie is pitched by Starscream, a propagandist biopic to win over the sceptical people of Earth. Oh dear. (John Barber, Priscilla Tramontano)
The Highest House #1 — A young slave finds himself making friends with a mysterious, powerful entity named Obsidian. The being has a hidden agenda, but it doesn't realise that the young boy has plans of his own. (Mike Carey, Peter Gross)
The Spider King #1 — A fleet of spaceships crash-lands in 10th-century northern Europe, and an intergalactic warlord plans to conquer this new planet… that is, unless the local Vikings can band together to stop him. (Josh Vann, Simone D'Armini)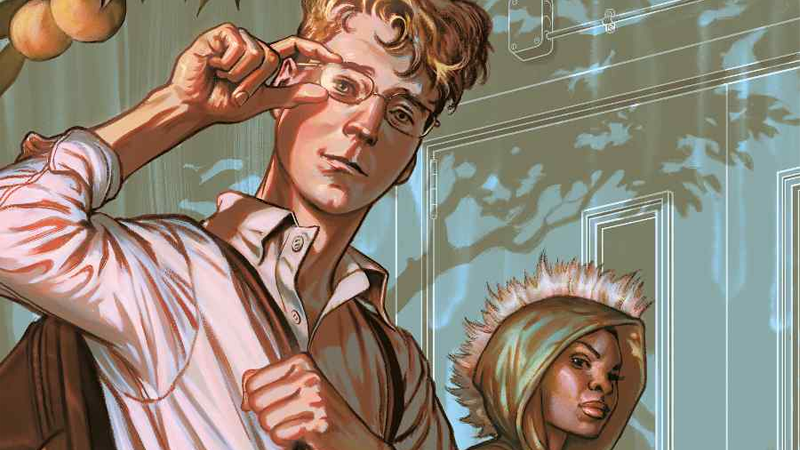 Dark Horse
Buffy the Vampire Slayer: Giles #1 — Giles is back in high school… sort of. Disguised in the body of a teen, Giles finds himself on a mission to investigate potential vampiric and demonic activity at an L.A. high school. But which is worse, trying to save the world or surviving high school for a second time? (Joss Whedon, Erika Alexander, Jon Lam)
Boom! Studios
Lucas Stand: Inner Demons #1 — Lucas Stand returns, having escaped from the sinister demon-hunting order that forced him into a war against hell itself. Lucas may be free, but now it's more than just the demons who want to hunt him down for revenge. (Kurt Sutter, Caitlin Kittredge, Jesús Hervás)
Jim Henson's Labyrinth #1 — The untold history of the Goblin King is finally revealed — along with the story of what happened when a young girl failed to do what Sarah accomplished in the beloved movie. (Simon Spurrier, Daniel Bayliss)
The Backstagers 2018 Valentine's Day Special — A special anthology of stories of love in the magical world of St. Genesius Prep's stage tech crew. (James Tynion IV, Ryan Sygh, Brittney Williams, Caitlin Rose Boyle, Katy Farina, and more)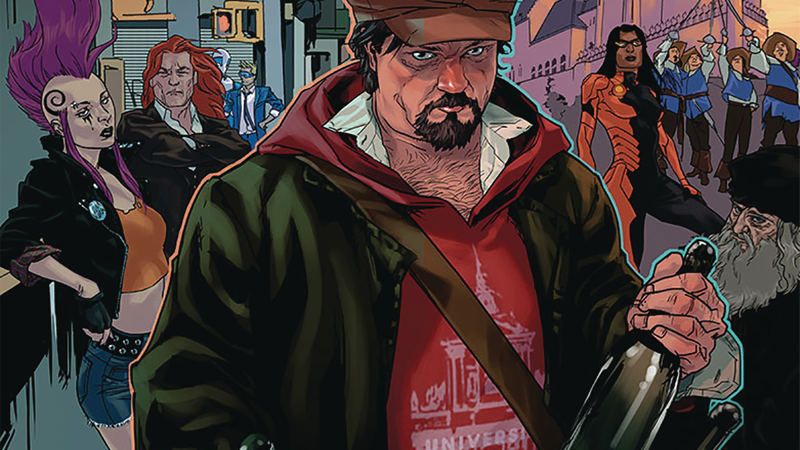 Valiant
Armstrong and the Vault of Spirits #1 — Valiant's beloved drunken immortal gathers some of his closest friends to tell the tale of his long, adventure, and his alcohol-fuelled life. (Fred Van Lente, Cafu)
Dynamite Entertainment
Dejah Thoris #1 — The princess of Mars strikes out on her own, hunting down the legendary Gardens of Mars. (Amy Chu, Pasquale Qualano)
Pumpkinhead #1 — Pumpkinhead rises for vengeance once more, but finds that this time its intended target, a reckless driver who killed two children in a road accident, is protected by a crime family — one that has its own supernatural methods to protect the killer. (Cullen Bunn, Black Shepard, Kyle Strahm)
Xena #1 — Xena travels to Athens to plead forgiveness for innocents slain by her hands. But will she find redemption at the temple of Eleos, or something far more sinister? (Meredith Finch, Vicente Cifuentes)
Kiss/Army of Darkness #1 — Yes, this is really happening. A mysterious cult kidnaps the legendary Kiss, robbing a young Ash one of his defining life experiences… one that could alter the fate of his heroic destiny altogether. (Marc Andreyko, Ruairí Coleman)
James Bond: M — The head of MI6 has made a career of sending agents on missions that could lead to their deaths. But a haunting mystery comes back to plague M, leading to him returning to the scene of one of his own past missions. (Declan Shalvey, PJ Holden, Dearbhla Kelly)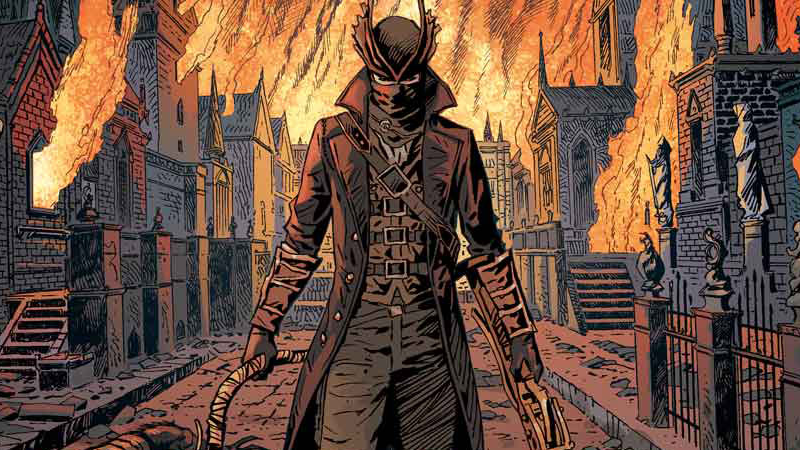 Titan
Alisik: Fall #1 — A young girl wakes up in a cemetery, thinking she's having a terrible nightmare. But she soon discovers she really is dead, and no one can see her except for her fellow ghosts, who offer her a key to her new (un)life. (Hubertus Rufledt, Helge Vogt)
Bloodborne #1 — The beloved and challenging Playstation 4 game gets its own comic, exploring a fallen city that has been ravaged by the beast-altering blood disease that plagued Yharnam. Can a fabled hunter complete his quest before succumbing to the creatures now stalking him? (Ales Kot, Piotr Kowalski)
---
March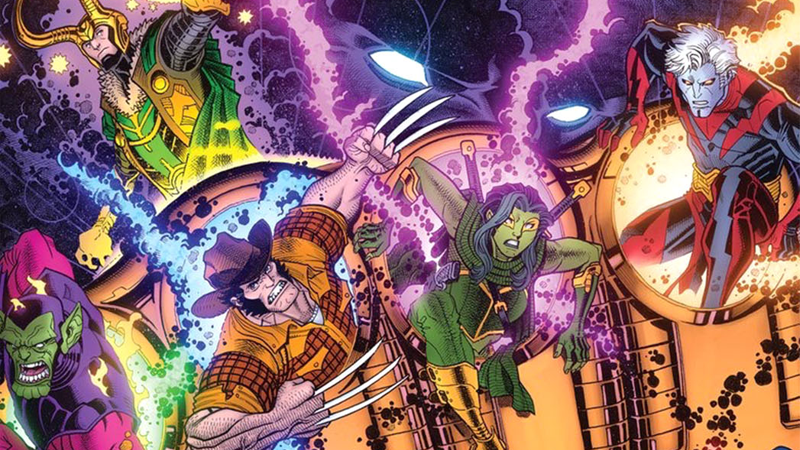 Marvel
Infinity Countdown: Prime — The first teases for Marvel's big event of 2018 begin! When the Infinity Stones returning to the Marvel Universe, forces good and evil gather to seize it — either for safekeeping or for conquering. (Gerry Duggan, Mike Deodato)
Infinity Countdown #1 — The Power Stone has returned, larger than any Infinity Stone ever seen before. As the battle to secure it begins, heroes and villains gather for a climactic cosmic conflict. (Gerry Duggan, Aaron Kuder)
Iron Man: Hong Kong Heroes — Remember when Marvel opened an Iron Man Ride in Disneyland Hong Kong? This tie-in comic tells the story, depicting an Avengers-laden team-up to prevent from Baron Mordo and Arnim Zola from creating a new, techno-magical menace. (Howard Wong, Justice Wong)
Weapon H #1 — The Weapon X programme may be destroyed, but their most powerful creation now lives: Weapon H, a creature with the claws of Wolverine and the strength of the Hulk. But now Weapon H is on the run, trying to hide from the world, until a Wendigo attack pulls the reclusive creation out of its exile. (Greg Pak, Cory Smith)
New Mutants: Dead Souls #1 — The New Mutants are back, exploring the creepiest places of the Marvel Universe, but team leader Magik might be hiding something from the rest of her teammates — a mission that could require great sacrifices to complete. (Matthew Rosenberg, Adam Gorham)
Damnation: Johnny Blaze, Ghost Rider — Tying into the the Doctor Strange miniseries exploring the fallout of Secret Empire, the Ghost Rider finds himself fighting the legendary demon Mephisto. (Christopher Sebela, Phil Noto)
DC
The Curse of Brimstone #1 — Trying to save his hometown, Joe Chamberlin makes a demonic deal that curses him with violent, flaming powers coming out of his hands. But can he destroy the demon that cursed him before his new powers tear him and the town he tried to save apart? (Justin Jordan, Philip Tan)
The Immortal Man #1 — The DC Universe has been protected by heroes for years, but a secret group of immortal heroes has been guarding it from the shadows since the dawn of time. The Immortal Men have fought the House of Conquest for generations, but a deadly attack forces them to turn to a surprising last hope: a young metahuman named Caden whose powers are only just emerging. (James Tynion IV, Jim Lee and Scott Williams)
Eternity Girl #1 — A superhero. A superspy. An immortal. Caroline Sharp has had a long life, but the idea of having to live forever is slowly tearing her apart — until a former foe gives her an offer she finds herself unsure if she can refuse: she can die, but she'll have to destroy the world to do it. (Magdalene Visaggio, Sonny Liew)
Cave Carson Has an Interstellar Eye #1 — The Milk Wars have given Cave Carson a sense of wanderlust… one the universe is happy to satiate by giving Cave and his daughter a black hole to spelunk. (Jon Rivera, Michael Avon Oeming)
Mother Panic: Gotham AD #1 — Set 10 years in the future, Gotham City is a city state ruled by a technological elite who have outlawed masked vigilantes. But Violet Paige still needs revenge, and the sad old clown who was once the Joker be able to help her get it. (Jody Houser, Ibrahim Moustafa)
Shade, the Changing Woman #1 — Shade has given up her alien form, ready to start a new life as a human on Earth in a new body. But despite shedding her past, can she move on from the events of Milk Wars — and can she face Shade, the Changing Man? (Cecil Castellucci, Marley Zarcone)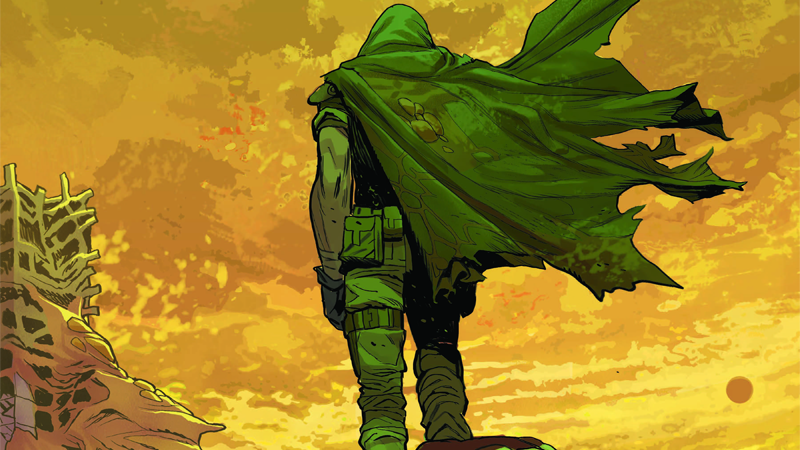 Image
Gideon Falls #1 — A recluse and a washed-up priest find their lives intertwined exploring the mysterious Black Barn, a building that heralds death and destruction wherever it appears. (Jeff Lemire, Andrea Sorrentino)
Oblivion Song #1 — Nathan Cole can't give up on the 30,000 people lost in a horrifying monster attack on Philadelphia 10 years ago, and thus heads out into the apocalyptic wasteland to safeguard survivors of Oblivion. But what drives Nathan to risk his life every day? (Robert Kirkman, Lorenzo De Felici, Annalisa Leoni)
Infidel #1 — An American muslim woman moves into a multi-ethnic apartment building., but little does she know that the building is haunted by horrifying creatures who feed off paranoid xenophobia, stoking uncomfortable hatreds among the tenants. (Pornsak Pichetshote, Aaron Campbell, Jose Villarrubia)
Prism Stalker #1 — A young woman looking to escape indentured servitude on an alien world seeks a chance to escape and protect her family. (Sloane Leong)
IDW
Bubba Ho-Tep and the Cosmic Bloodsuckers #1 — A prequel to the cult film, President Nixon turns to the one man who can help him stop an alien invasion… Elvis Presley. Uh-huh. (Joe R. Lansdale, Joshua Jabcuga, Tadd Galusha)
Ghostbusters: Crossing Over #1 — Jealous of the original Ghostbusters' interdimensional portal, Holtzmann and Ron Alexander try to make one of their own. When it inevitably goes wrong, ghosts from the team's containment unit get unleashed, a threat that's going to need every Ghostbuster team ever. (Erik Burnham, Dan Schoening)
Star Trek: Discovery Annual — Witness the two most important moments in Paul Statmet's life: how he discovered the game-changing mycelial network with his best friend, and how he met the love of his life, medical officer Hugh Culber. (Kirsten Beyer, Mike Johnson, Angel Hernandez)
The Crow: Memento Mori #1 — David, the latest host of the Crow, seeks vengeance in Rome against a group of terrorists that murdered him and his girlfriend. (Roberto Recchioni, Micol Beltramini, Werther Dell'Edera, Angelo Mennillo)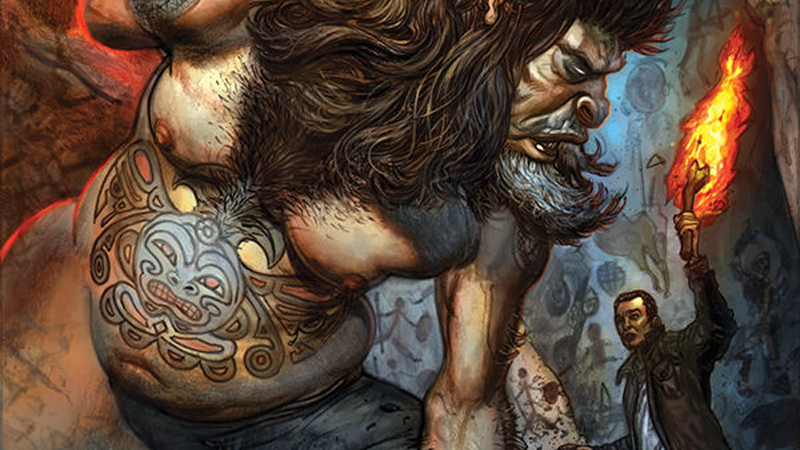 Dark Horse
American Gods: My Ainsel #1 — Dark Horse's adaptation of the beloved Neil Gaiman book continues in a new series, picking up as Shadow and Wednesday leave the House on the Rock as they prepare for war between gods old and new. (Neil Gaiman, P. Craig Russell, Scott Hampton)
Doctor Star & The Kingdom of Lost Tomorrows: From the World of Black Hammer #1 — The old man who was once the Golden Age superhero Doctor Star recounts his origin and early days, in an attempt to get his estranged son to inherit the mantle. (Jeff Lemire, Max Fiumara)
Usagi Yojimbo: The Hidden #1 — Usagi and Inspector Ishida find two murders with the victims stripped of their identities, except for a mysterious talisman that leads to a startling new adventure. (Stan Sakai)
Boom! Studios
Lucy Dreaming #1 — In her dreams, Lucy is the hero of any story she can imagine — an endeavour that teaches her more about herself and the real world than she thought it could. (Max Bemis, Michael Dialynas)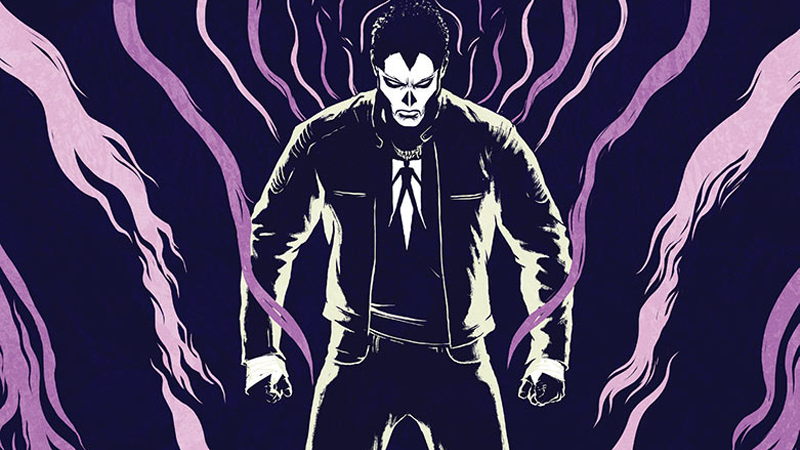 Valiant
Shadowman #1 — Jack Boniface, the latest man to inherit the voodoo powers of Shadowman, returns home after a self-imposed exile to hone his skills and unleash judgment on the evils of the world. (Andy Diggle, Stephen Segovia)
Secret Weapons: Owen's Story #0 — A prequel to Eric Heisserer's psychic-team series exploring the origins of Owen Cho, a psiot who can conjure anything at will with his mind. The problem is, he can't always control what appears, or when it shows up. (Eric Heisserer, Raul Allen, Patricia Martin)
Dynamite Entertainment
Green Hornet #1 — Crime is on the rise on the streets of Century City, with the Green Hornet absent. But when the Hornet's son, Britt Reid Jr., mysteriously vanishes from a lavish party, Kato and his daughter Mulan must protect the city and uncover Reid Jr.'s disappearance. (Amy Chu, German Erramouspe)
Pathfinder: Spiral of Bones #1 — A new tale in the Pathfinder RPG universe, the Pathfinders find themselves in the seedy catacombs of Kaer Maga, the City of Strangers. But one of their own, Valeros, finds himself lower — in the courts of the dead, defending his soul from eternal damnation. (Crystal Frasier, Erik Mona,: Tom Garcia, Diego Galindo)
---
To see every comic on its way over the next few months, both ongoing and new, head on over to Previews World. What are you looking forward to the most? Let us know in the comments!