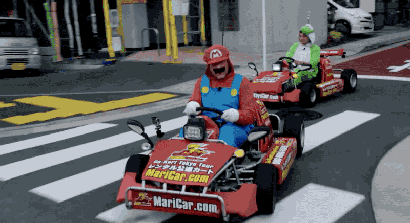 Maricar might be staring down the barrel of a lawsuit from Nintendo, but that doesn't mean Australians won't get a taste of Mario Kart racing. Because it's coming to Sydney and Melbourne this year.
Called Mushroom Racing, the promoters are advertising the experience as "go karting with a twist". It sounds a little different from the Mario Kart experience in Japan: while Maricar allowed users to ride around the streets of Tokyo, the Mushroom Racing website is limited to a particular race day, with players driving specific courses.
A unique experience that combines your favourite characters, friends and new friends for a driving experience that will take you back in time.

On the race day, you'll be able to pick your favourite character, drive courses dressed as them, and have the opportunity to collect stars to win prizes.
The event doesn't have any affiliation with Nintendo, which makes one wonder whether the whole venture is at risk of a legal blue shell. The website also doesn't have any promo images and there's no confirmed dates for the "race days", or whether customers will be zipping around streets or a custom go-kart track.
If you want to know more, you can sign up for a newsletter from the official website. If Nintendo doesn't take it down, that is.