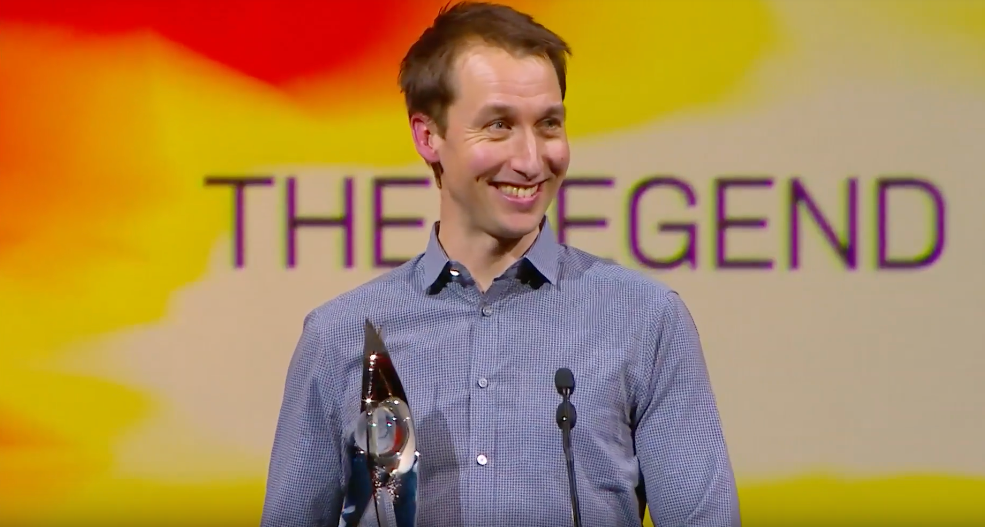 At yesterday's DICE Awards, Nintendo cleaned up. The Kyoto-based game company didn't send their development teams to the ceremony. Instead, it was up to one man to collect all the trophies. His name is Nintendo Guy.
[Image via IGN | YouTube]
Nate no longer has a name. He is now Nintendo guy. pic.twitter.com/svVuwSST14

— Chet Faliszek (@chetfaliszek) February 23, 2018
Of course, that isn't his real name (it's Nate Bihldorff), but yesterday, it was. Bihldorff, who works as a localisation manager for Nintendo of America, appeared on stage repeatedly, giving a fitting and eloquent speech for each award he accepted.
Shout-out to Nintendo guy at @Official_AIAS for actually have a full speech for each award.

— Rami Ismail (@tha_rami) February 23, 2018
After already appearing on stage a couple of times to accept awards, when Bihldorff went up to get the award for Snipperclips, he said, "Hi again. Sorry, I'm Nintendo guy for the night."
TFW you get to accept half the trophies at #DICEAwards#NintendoGuy pic.twitter.com/wdqoKoxG1Q

— Josh Stein (@steinekin) February 23, 2018
Big congrats to Zelda: Breath of the Wild team for winning "Game Of The Year" at the #DICEAwards. And special thanks to #NintendoGuy for accepting all those awards! ???????????????????? pic.twitter.com/V9DD6daWqM

— Michael Hadwin (@MPHadwin) February 23, 2018
No, you are Nintendo Guy for forever.
Can #NintendoGuy just accept all studio earned and proxy awards at all the shows? Thanks.

— Jimmy Whisenhunt (@jimmywhis) February 23, 2018
Why can't I
Hold all of these #DICEAwards?#NintendoGuy pic.twitter.com/vCaigyRrUy

— Jared Schuh (@quesobros) February 23, 2018
Congrats to Nintendo and Nintendo Guy!