The stories inside horror anthology Flayed Corpse and Other Stories feature unseen terrors killing people in horrifying ways, and lifelong cape comics enemies farting in each other's presence. It may gross you out at times, but the weird mix of humour, gore and psychological exploration is also hard to walk away from.

Detail from "Twilight of the Bat", a story in Flayed Corpse and Other Stories. Image: Josh Simmons (Fantagraphics)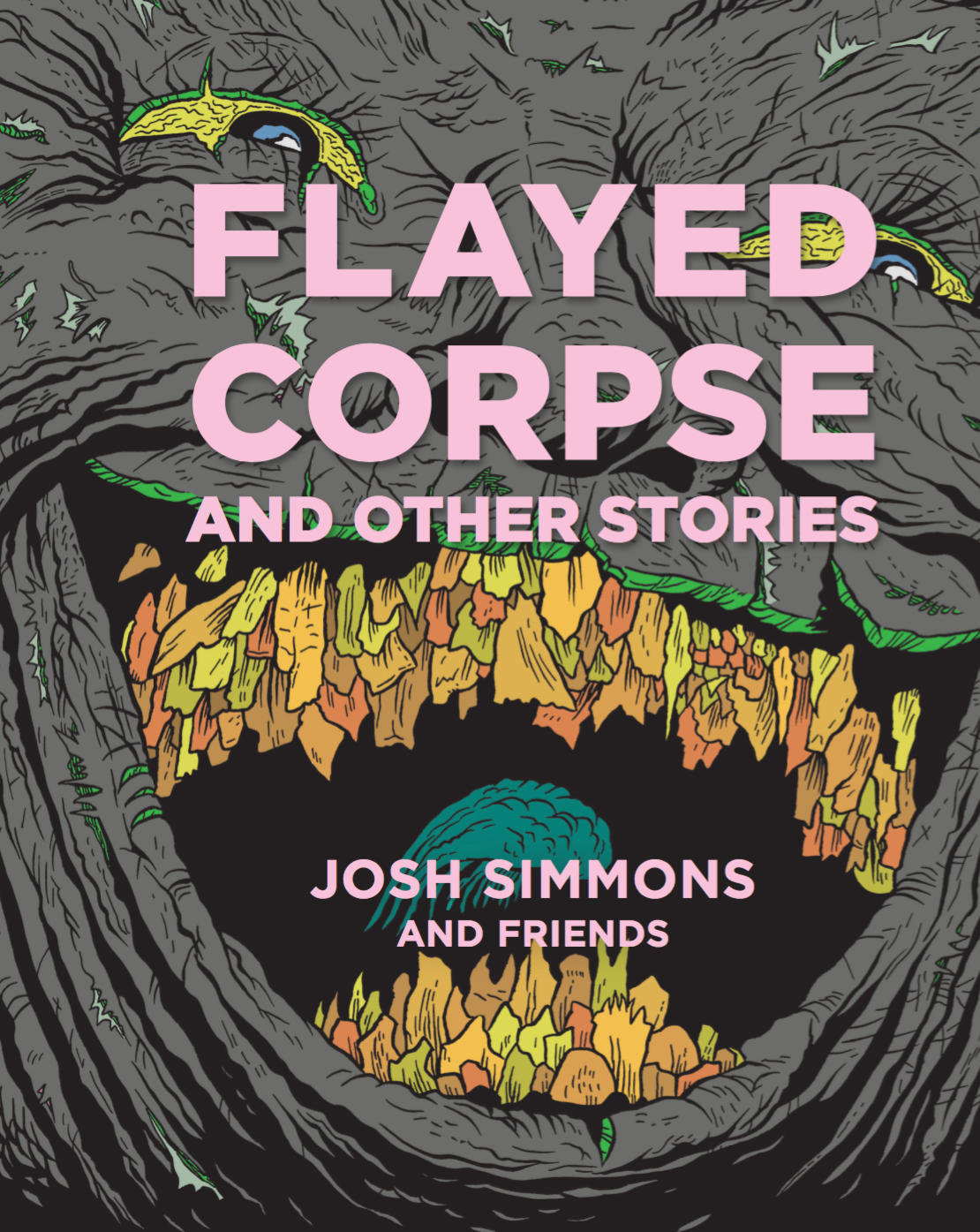 Written by Josh Simmons and drawn by a long list of artists – along with Simmons himself in spots – Flayed Corpse collects several years' worth of comics-making by the Seattle-based cartoonist.
The stories here are sharp and impolite. Some of them trip you as you read, step on the back of your head so your face gets pushed into mud, and laugh at your pain. Others take the formal trappings of other kinds of stories and contort them into shapes that elicit nervous laughter.
The title story is one of those, a two-pager that initially feels like a dry send-up of police procedurals. A handful of medical examiners hover over a flayed corpse, each trying to trump the other with increasingly elaborate theories as to how the man died.
Just as the speculation reaches it most ludicrous, the last guy basically says that it doesn't matter how he died because nobody's death really means anything in the larger scheme of things.
Simmons' writing clearly revels in establishing its proximity to frightening creatures and events and kneading the tension that comes with audience anticipation.
Drawn by Ross Jackson, "Don't Look Up" uses crunched, tight page layouts next to more open pages to create a sense of tension and release. That design reinforces the focus of the story, which revolves around a secluded artist named Aggie who lives in a house that has a group of djinn in its eaves. She hosts a visiting friend who wants more than just a one-night stand, but Aggie rebuffs him to keep the company of minor demons in her home.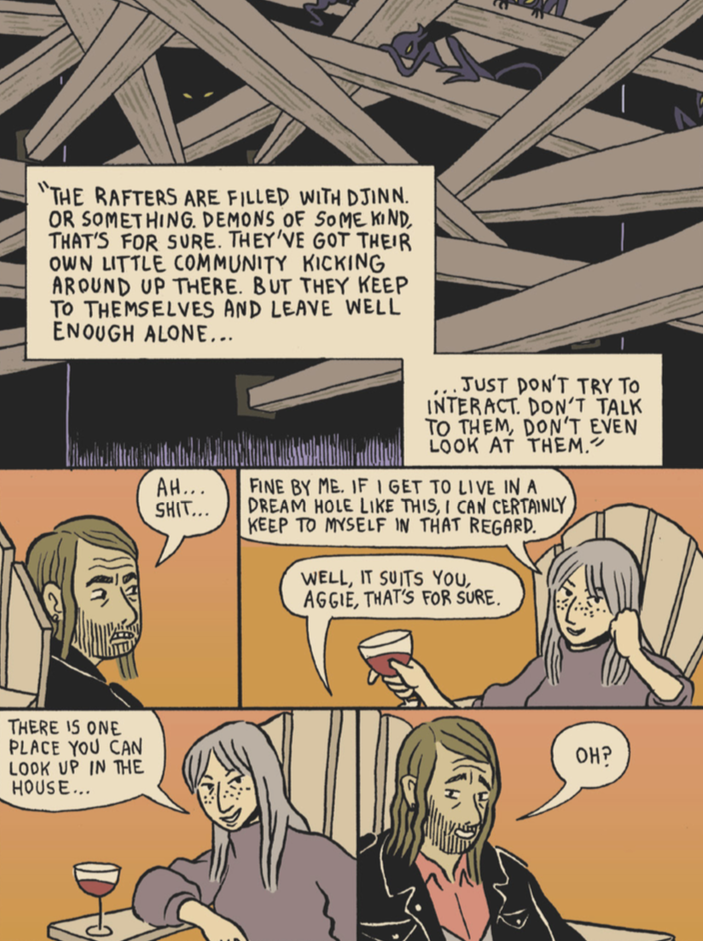 A moment from "Don't Look Up". Image: Ross Jackson (Fantagraphics)
Surprisingly, the longest story in Flayed Corpse centres on a character that legally can't be referred to as Batman. "Twilight of the Bat" finds an un-Joker and non-Batman as the sole survivors of an apocalypse, uneasily figuring how to live with each other in a world where nothing they fought over matters any more.
Simmons takes these characters to extremes that DC Comics never could, with unsettling levels of violent intimacy and relationship reckoning.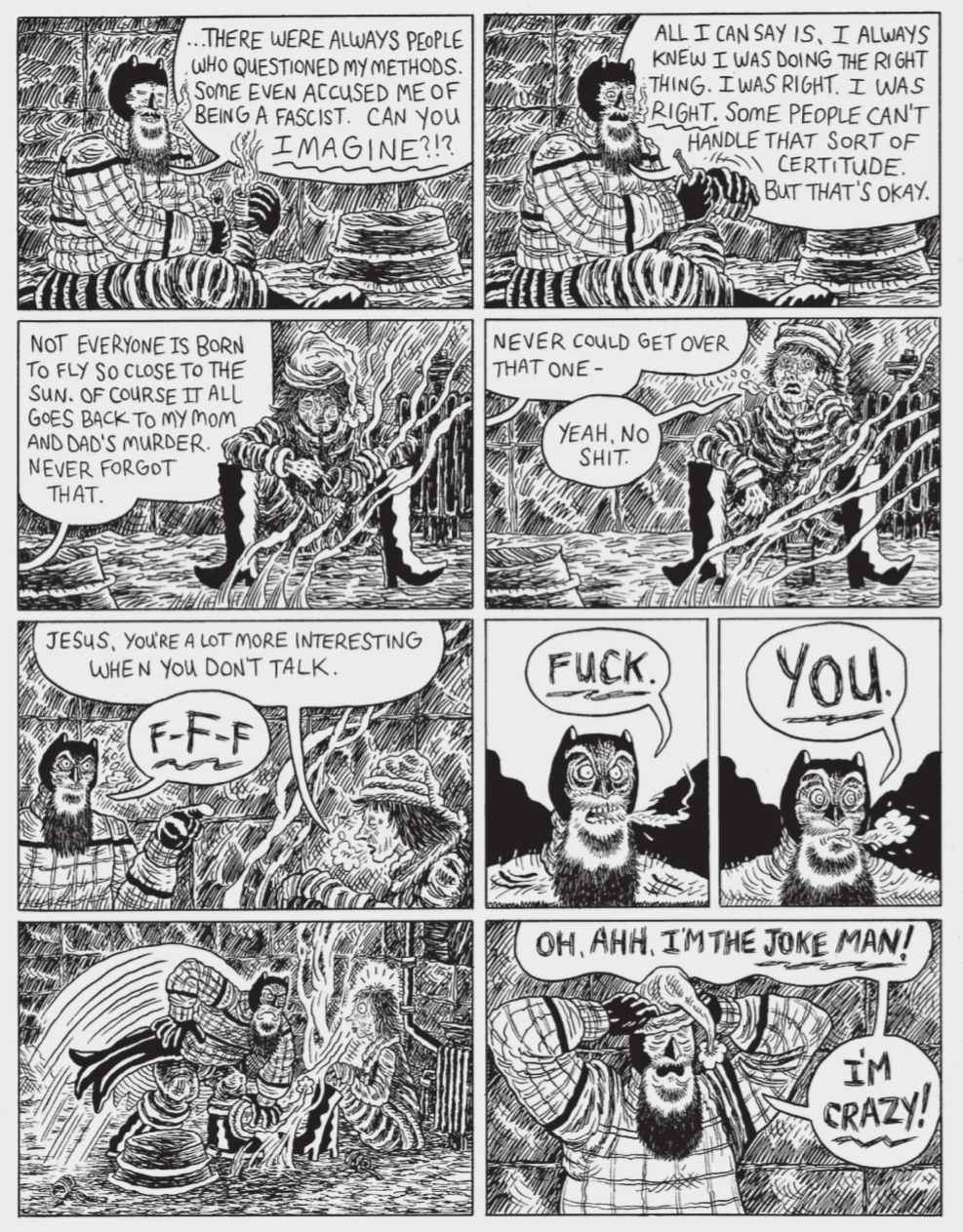 Two characters who are definitely not Batman and Joker have an argument in "Twilight of the Bat". Image: Patrick Keck (Fantagraphics)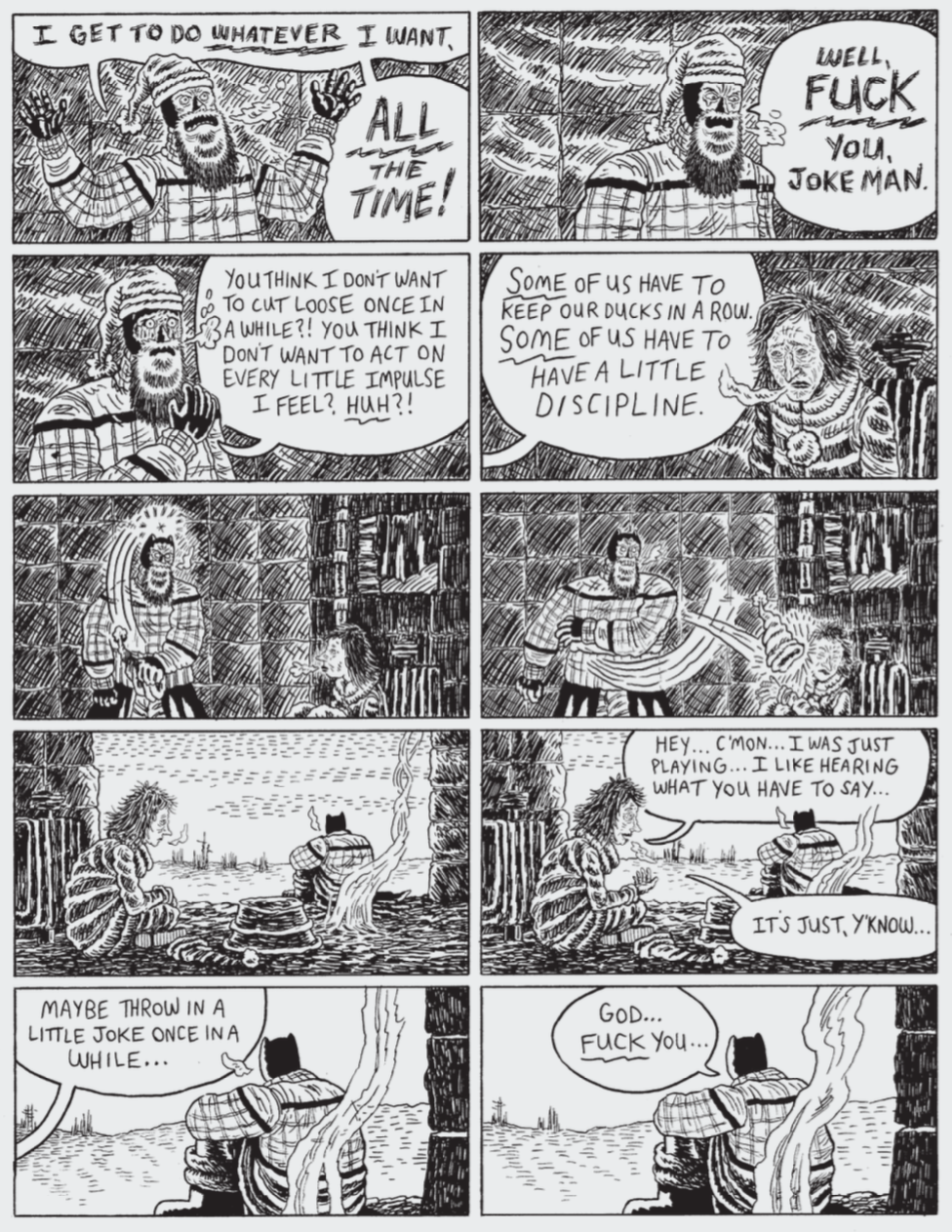 Two characters who are definitely not Batman and Joker have an argument in "Twilight of the Bat". Image: Patrick Keck (Fantagraphics)
There's a thread of scatological scenes in Flayed Corpse, and even when they're played for humour, something darker lurks beneath. The titular character in "The Great Shitter" is a giant monster that's been defecating over a small town for years. Life in the town has been reordered to address the unending flow of faeces: Kids only go to school for one day of their life then they have to join the workforce that makes sure the town doesn't get overwhelmed.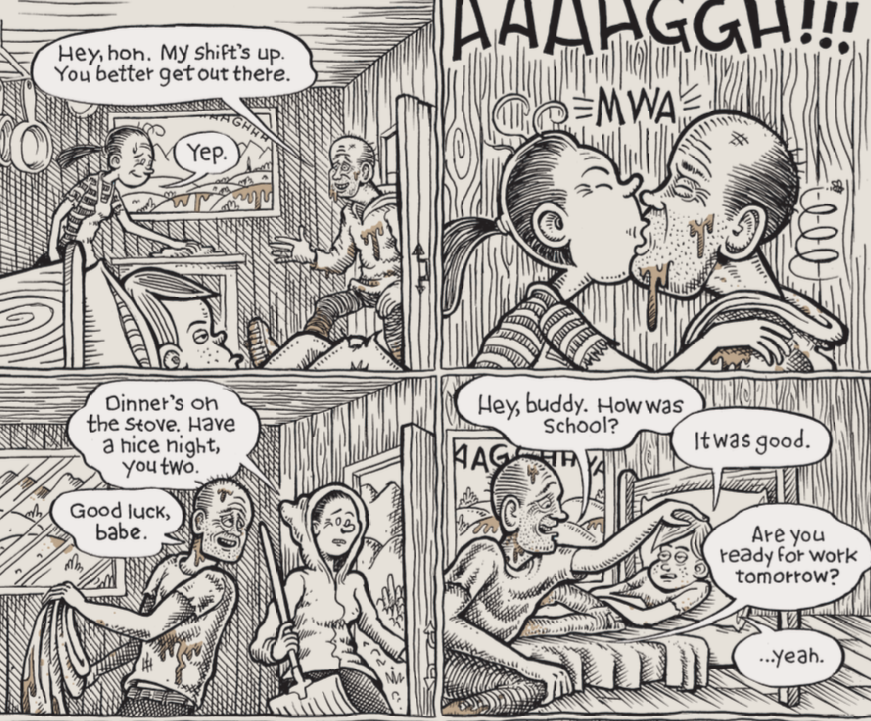 Shift change at one family's home in "The Great Shitter". Image: Josh Simmons and Pat Moriarity (Fantagraphics)
When I first read "The Great Shitter" it felt like a jarring, darkly humorous extrapolation of upscaled horror conventions. Possible existential metaphorical interpretations – such as, say, that we can become giant monsters as we get older, inconveniently pooping on those that come after us – only revealed themselves after I stopped laughing and retching.
Most of the stories in Flayed Corpse are like that; they hit you once and then throb with aftershocks that vibrate them into different frames of meaning. It definitely isn't a comic for everyone, but that doesn't make it any less thoughtful, darkly funny or rewarding. Or disgusting, for that matter.