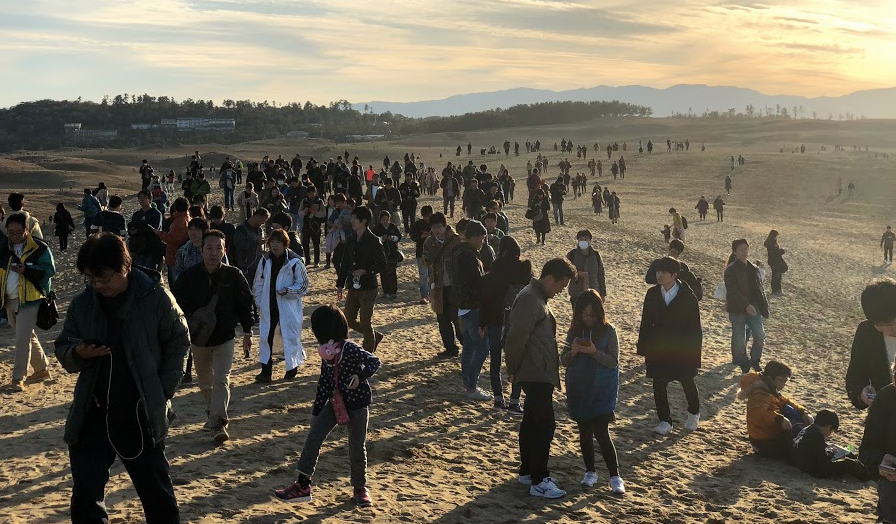 A year after Pokemon GO Fest's calamitous Chicago debut, the event is coming back. Anyone who heard about the misery its 30,000 attendees stood through might be a little surprised, but today, developer Niantic announced 2018's Pokemon GO Tour across Japan, Germany and the US between June 30 and July 1.
Pokemon Go's Safari Zone in Tottori. Photo: Niantic
Mobile signal was a big issue at last year's Fest. "We can't play!" chanted players at last year's event.
In an interview with IGN published yesterday, Niantic CEO John Hanke, who was booed on stage last year, said that since then, he's made a concerted effort to explain to mobile providers exactly what kind of strain tens of thousands of people playing Pokemon GO can place on mobile networks.
So hopefully, this year, the event's technical requirements will be less of an obstacle.
Niantic really does not want to screw up again in Chicago, it turns out. And it looks as though 2018's Pokemon GO Fest will be a lot different. First, players will be encouraged to walk along a nearly 3km-long course through Lincoln Park instead of standing still in Chicago's 1.3-square km Grant Park. That way, players can experience a variety of gyms and PokeStops in a more organised way.
If gameplay begins to feel clogged, Hanke said, Niantic will "closely monitor what's happening in Lincoln Park itself and then to dial up the attractiveness of other areas if for some reason there's a problem there".
Since players will be walking around, that might put less strain on mobile networks, too. Henke explained to IGN:
"There wasn't really a model for how do you do a mobile gaming event for 30,000 people. The company we worked with had put on lots of big music shows, and I think their thinking was more like, 'Hey, how does Lollapalooza work?' There was a stage, there was a fence, there were concessions and things like that, but it was kind of drawing its inspiration from a music festival, and I think that's not really quite the right model."
In Chicago July 14-15, attendees this year will face Pokemon GO challenges alongside fans from around the world - if it all works.