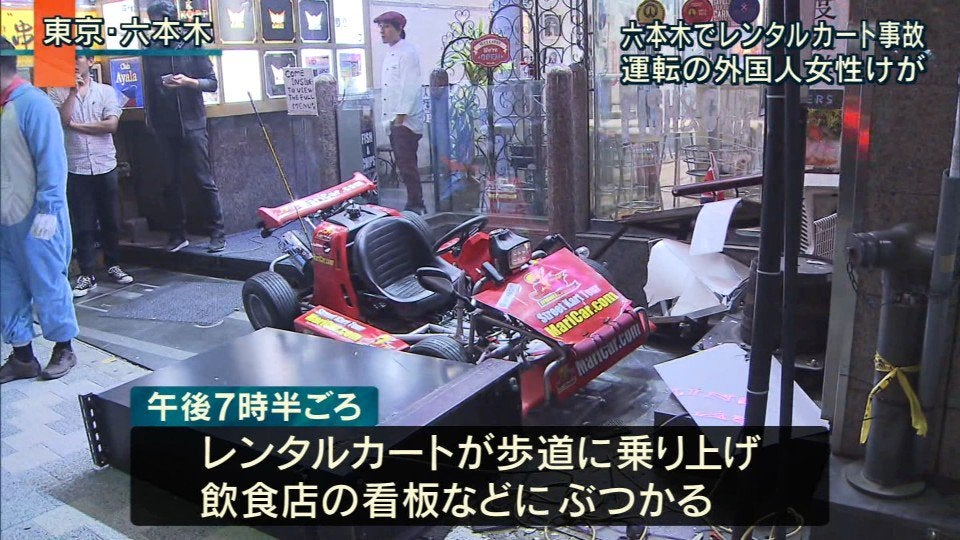 Last night in Tokyo, a 30-something-year-old tourist from Singapore made a wrong turn, driving a rental MariCar (the go-kart company that Nintendo is suing for copyright infringement) up on the footpath and crashing it into a restaurant sign. This is not a first.
Previously, Kotaku reported that another tourist crashed a MariCar into a police box.
In a separate incident, a Taiwanese national was arrested earlier this year after an alleged hit-and-run while driving a rented go-kart. The injured cyclist needed several weeks to recover.
As can be seen in these tweets, during this latest incident there were drivers dressed as Mario and Tigger. Is that Wario behind the wheel? Or a Minion?
マリカー事故ってた。真っ直ぐな道でどうやってそこに行ったのか不明すぎる。人を巻き込んでないだけでもよかったと思う。
毎日歩く道だから本当危ない。シャレにならない。 pic.twitter.com/487uWRBREN

— ma-vo- (@maaavooo) April 30, 2018
Thankfully, the driver only sustained minor injuries and no pedestrians were hit. It looks like the sign was not so lucky.
知り合いのビルにマリカーが突っ込んできたらしいんだけど、こういうのって保険とかきくのかね???? pic.twitter.com/YFlYDGbpfn

— まにゃ様 (宇咲まな) 超会議両日 (@manyatter91) April 30, 2018
六本木でマリカー突っ込んでる。#六本木 #マリオカート pic.twitter.com/Dnjaom7zYM

— RhinoTokyo (@rhino_tokyo) April 30, 2018
マリカーいつも、うっとおしーなーあぶねーなーと思ってたら、、、ついに事故。六本木のミッドタウン前のフィッシュ&チップスの店に突っ込んでる。。マリカー営業停止にしてくれ… pic.twitter.com/YdN6ImlGDF

— ACKYMOUSE (@ackymouse8) April 30, 2018
The accident made the national news in Japan, including TV Asahi.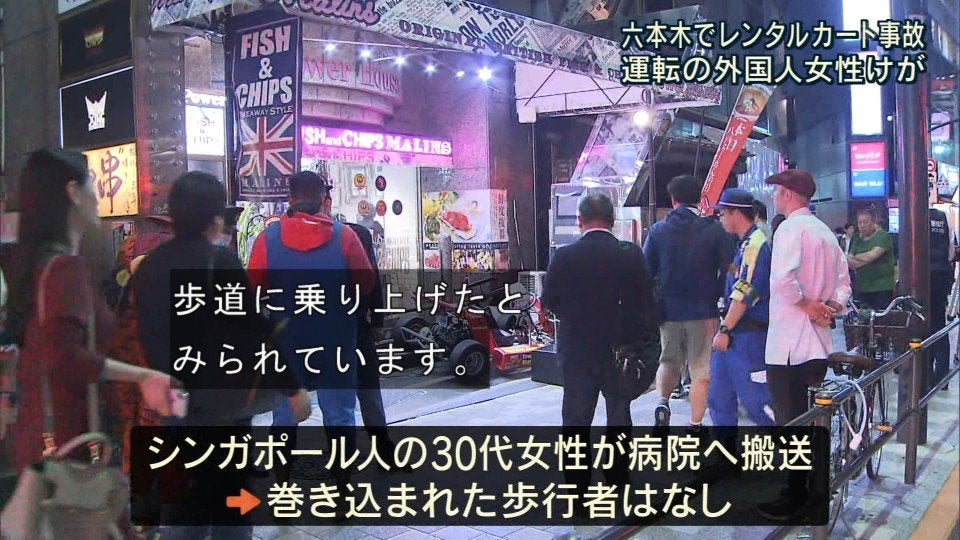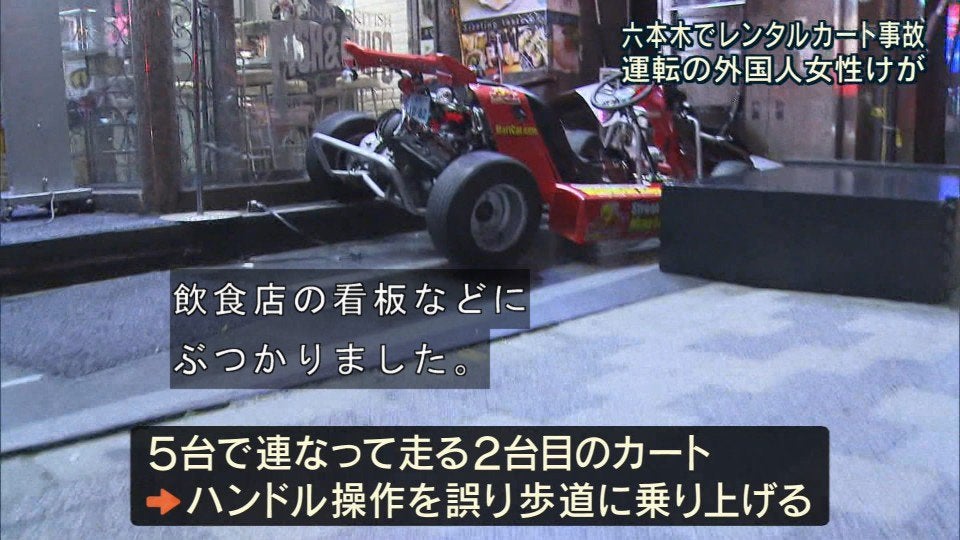 [速報]マリカーがバナナの皮を踏んだ模様 pic.twitter.com/Xp3ynFq6qk

— かんかんみかんっ (@joruno_st0711) April 30, 2018
Rental go-karts started appearing on the Tokyo city streets in around 2013. Since then, they have become increasingly popular with tourists, but less so with locals.