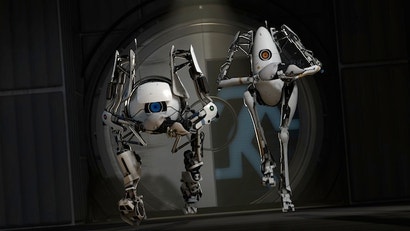 Image: Portal 2
Tuesday's Off Topic discussions are typically unrelated to video games, but for this week I'd like to tackle a semi-related topic: the people, and friendships, we've met and made through our shared passion.
I was having my morning coffee when this came up in my Twitter feed:
I'd love to read your personal experiences of gaming related connections and friendships. Tag a friend you made through games! Maybe explain how you met/what you're doing now?

????

— MACHINE /// (@MACHINEgg) June 18, 2018
It reminded me of something I'd never really quite forgotten about, when I went to my first proper CS 1.6 tournament. It was a netcafe on Sydney's George St, the old Weblounge cafe about half a block down from the cinemas.
You walked down a long, narrow corridor of stairs to get there. At the bottom was a long hallway of computers, approximately 60 or so. Each PC had a little wooden cutout, each with a 17" CRT at the time. There wasn't much desk space. I was looking to fill in for a team on the day, because I didn't have one. I barely knew anyone: it's not like people wear nametags or anything at these events.
So I'm standing in the corner near the front desk, because the first round hasn't started and the entire lobby is full. There was over 80 people there that day, which was pretty standard for a state tournament (16 teams of 5 players, not including the friends, netcafe staff and admins around).
And I'm still standing there, when a tall, lanky bloke comes up to me. I didn't know who he was, but told him my gamer name (Dippa) and said hello.
He told me his name was Rob: he'd recognised some writing I'd done for the community site that everyone connected through, which was Pantheon at the time. I'd been doing wrapups of international events for Australians, and people apparently enjoyed it. So he took me around the room and introduced me to everyone in the space of five minutes. I met the state's best players at the time, people who did backend work for the site, the admins, friends of friends, and eventually a team that needed a 5th.
By the end of the day, I'd played one game that ended up going into overtime. The people that Rob had introduced me to beforehand turned to watch the overtime rounds, which fortuitously resulted in me basically deciding three out of the four rounds, including two pistol clutches that won the game.
That little act of generosity, introducing a fresh face to an old crowd, is something I've never forgotten. I don't know what Rob's up to these days, but it's a kindness that I've always remembered.
There's plenty more stories, but I just wanted to share that one. What friendships and connections have you made through video games?