It's been a while since I've binged The Division, so it's been a while since I've played a game with menus, transitions and a UI that was just pure beauty. Enter the The Division 2.
By chance, I found myself spending a good chunk of time with The Division 2's public beta over the weekend. I hadn't planned on firing up Ubi's run-and-gun loot shooter, but the Epic Games Store (of all things) gave me a massive prompt saying the beta was available, so I figured I might as well give it a whirl.
The original Division is a game that I've always appreciated, even if it's not something I actively play anymore. A good user interface is hard to do, and The Division absolutely nailed the brief with its minimalist, slightly angled lines and HUD icons.
It was a UI that provided as much information as possible while being as unobtrusive as humanly possible. Naturally, The Division 2 tries to follow the same brief, and it does so very well.
Take this scenario. I'm zoomed in, camped behind a car, when a patrol comes strolling down the street. At an instant an immediate glance, I can tell that there's precisely six soldiers in front – thanks to the tiny little UI dots that The Division 2 pops up on enemies.
I can immediately see how much equipment I have to deal with everyone as a group. Thanks to the radar, I can also see if there's another enemy that's not within my direct cone of vision (to the right or the left). Further more, the weapon change UI appears at just the right height so I can quickly get a gauge of how many bullets I can bump into this crew.
Best of all is the actual character model. The Division understands that you do not need the player model to take up 50 percent or more of the screen when zooming in. The player isn't getting in the way of valuable information, and I wish to all that is holy that other third-person games would get the memo.
Take this, in the middle of a firefight. It's a demolition site, not that far from the only DZ area available in the public beta. There's a trash melee mob advancing on my position, so I've rolled out of dodge just to give me some space to deal with that situation.
A small red triangle lets me know that there's still an enemy on the second floor of the demo site. I've also dropped a turret that's targeting another enemy to the right, and even though that enemy isn't visible because of the concrete pillar, I know they're there thanks to the thin red targeting laser emanating from behind the trash mob. I can also tell my turret to have a crack at the melee enemy with the press of a button – a single orange Q, which takes up almost no space on the screen, but stands out just enough thanks to the drop shadow and the contrast against the environment.
I also know that some friendly forces are on their way – there's a prompt next to the radar, but a tiny icon on the screen also lets me know the direction they're coming from as well. It's a ton of information that's all immediately readable without getting in the way of actually shooting stuff.
A lot of the base for this, of course, was designed for The Division. The sequel has improved upon it in bits and pieces. Take the transmission for ECHOs, which are basically narrative vignettes told through some holographs. You'll come across a couple in the open beta, and they've been refined a little from the original game.
Firstly, the game very immediately and instantly gives you an idea of what the range is for the ECHO. A square grid pops up around the area, but most of that grid immediately dissipates. A thin line and a couple of slightly transparent blocks remain so you know where you need to be, but enough of that border is removed so your visual focus is immediately drawn towards what's actually important.
Someone within Ubisoft would have spent a good chunk of time working out what that transition looked like – how long that grid remains on screen, the diagonal lines in the edges of the barrier, the size of the grid on the bottom, and how quickly everything appears and fades out.
It's visually effective, and really, really well done.
Even going into the inventory has been overhauled slightly. The original game tended to group things in a series of columns, splitting things into a series of three columns that showed your health, the DPS of your currently equipped weapon, power of your skills, and then your equipped gear underneath that.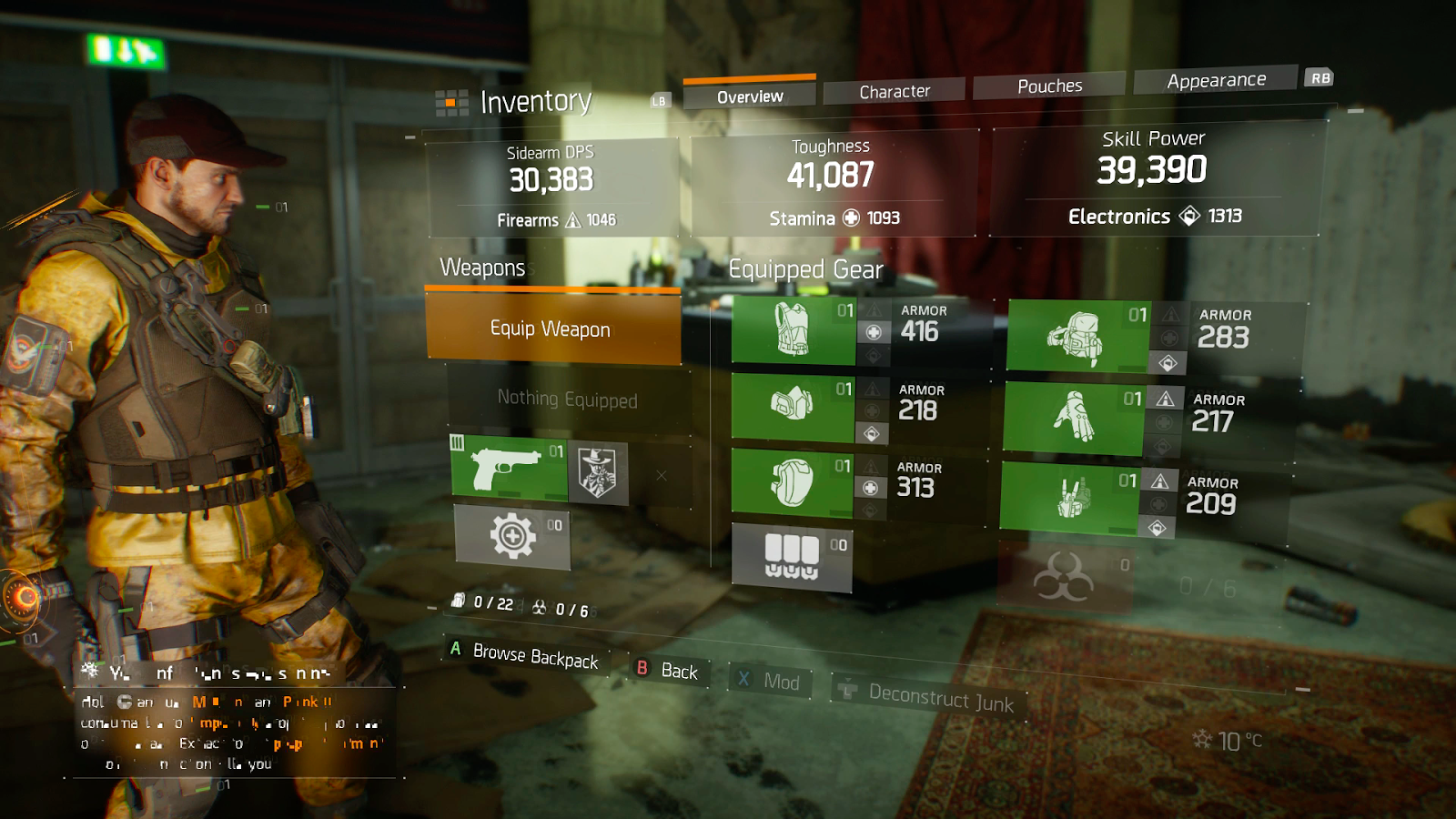 The Division 2 still displays all of that information on a single screen, but items are now highlighted instead of a focus on numbers. The armour, health and skill power values have been shifted to the side, allowing you to see your entire loadout in a single hit, as well as any set bonuses for each item, their level, and general quality.
The weapon menu is improved as well. The DPS, magazine size and rounds per minute were always displayed on the one screen when a weapon was highlighted, but now those three values are displayed at all times underneath every weapon in your inventory.
It makes it faster to quickly gauge the general value of each weapon, especially if you're just looking for the highest damage output. The game also displays the critical strike range and damage drop off for each weapon, something the original Division didn't do. Reload time is now displayed in seconds, rather than a meaningless bar, and the game tells you what the range for a critical strike is, information that wasn't displayed before.
There's less space between individual blocks in the inventory menu, which has allowed Ubisoft to add more information without completely overloading the screen. It's worth noting, too, that you can use a larger font. The Division 2 gets that you might not be sitting in front of a monitor, so if you want something a little more readable, you just have to flick an option in the settings. It's incredibly handy.
There's a lot more that can be said about The Division 2, and we'll definitely cover that as we get closer to the game's launch on March 15. But given how many games don't display information well, or bog the player down in a series of clunky and monotonous transitions for basic actions – the experience of swapping a gun out in Anthem comes to mind – it's worth calling out the games that get it right.