The last thing you want heading into four days of leave is three days straight of PAX pox-induced rest, and yet that's exactly the fate that befell me last week. But a great tonic for a ravaged throat and immune system — besides bed, lemon and honey — is video games. Especially when they're the kind you genuinely never expected you'd be able to play from bed, and certainly not well.
It's a stark contrast not just because of how far The Witcher 3 can still push gaming rigs today, but also because Geralt's magnum opus dropped on the same day as the Overwatch Switch port, which is barely playable in comparison. And it's an interesting comparison between the choices CD Projekt Red and Blizzard have made, because both developers have cut down the sharpness, level of detail, draw distance, you name it, anything possible to maintain a minimum playable standard.
What's really interesting is that Overwatch is generally a more entry-level friendly game than The Witcher 3 ever was. It runs at a perfect clip on consoles. Basically any thin-and-light laptop from this year or last will run the game at a playable frame rate, provided you tank the resolution and settings (the latter is done by most pro players anyway). The Witcher 3 won't run without substantial compromises on machines with entry-level discrete GPUs. It was meant to push a PC, the kind of game you first load up when you've just built a new rig or bought a flash new graphics card.
The Witcher, or Switcher as everyone has been happily calling it, is not a visual marvel. To say the game looks blurred is doing it a kindness, and the bigger the screen, the more prominent that becomes. But Witcher has a scalability to it that the game is never unplayable as a result. It's not the game at it's best, but it's still more than functional during combat, even if there's a discernable drop in smoothness in cutscenes and especially Novigrad.
Your propensity to tolerate the dips depends on where they are, and whether you're playing in docked or handheld mode. Pop-in is a much bigger issue on the Switch, and if you're playing exclusively on handheld, you'll get slightly fewer frames on average. It plays best in the outdoors and outside towns, which is where you'll spend most of gameplay anyway, and it's worth noting that DF didn't do any comparisons with Skellige (probably owing to how much in-game time is required to actually hit that part of the game).
Novigrad is a bit of a chunky experience, and certain cutscenes (the Wild Hunt's first appearance in Velen in particular) definitely have a problem. If you're playing this game predominately in docked, the worst frame rate drops will still be relatively manageable, whereas you'll have a tougher time on handheld in places like Crookback Bog, where the Switch drops to the 20fps mark when running around on Roach.
But that's a small section of the game that, at best, you'll spend a couple of hours in. And while that sounds like a lot, it's worth considering how much gameplay there is to offer in The Witcher — and how well most of it plays, for the most part.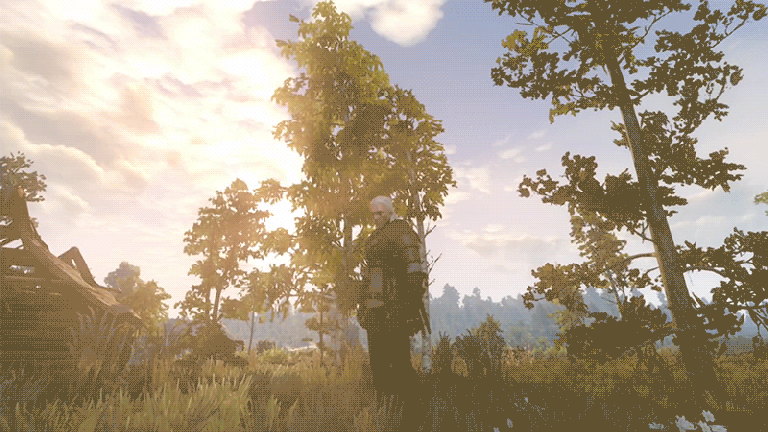 The Switch has been a home for people to rediscover old favourites, or for people to pick up games that, for whatever reason, they completely missed the first time around. The Witcher 3 is one of those games that you would have sworn people wouldn't have missed, because it was so widely talked about, so popular, that you naturally assume it would have entered everyone's library at some point.
But for those people, there are worse ways of enjoying Geralt's grand Roach adventure. It's far more playable than you'd expect from a game of this size and fidelity, and the sacrifices have all been worth it. And, strangely enough, I'm actually enjoying it more on the Switch than PC. Although I've got a good reason for that:
Meanwhile, switching to Witcher 3 on the PC with a *very* decently specced out rig, let's see how Roach is doi– oh pic.twitter.com/Z2C945m3wj

— Alex finally cured of PAX pox (@dippizuka) October 17, 2019
Goddamit Roach.