---
Frank Lee, a professor at Drexel University's Westphal College of Media and Design, brought a five-year obsession to a successful conclusion on Friday: play the world's largest game of Pong, using the side of a building.
---
There's an easy way to play 18 different console formats (or more) on a single device. Most of us would use an emulator. But modder John Grayson chooses to do things not because they are easy, but because they are hard.
---
Capcom is now taking preorders for this Mega Man sleep set (yet only through its Japan site, for now) that will run about $US60 once it arrives in the summer. It's a brilliant idea, and I expect to see a ton of these running around Comic-Con.
---
It's real, and it's … boring. Back in 2009, we reported that some 500 Hilton hotels created a training video game, and it wasn't some PC game played on an HR computer. It was a PSP game with its own UMD disc. Well, now someone has gotten a look at its contents.
---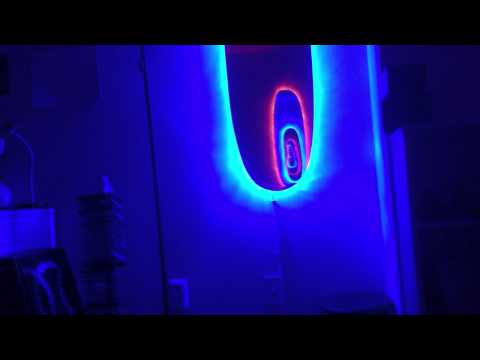 Mirrors lined with blue and red LEDs have long been a staple of Portal-themed decoration. Taking it to the next level, however, is jamin101wolf. He bought the Portal gun prop available through ThinkGeek and Amazon, then plugged the two mirrors into remote-control power boxes. With this he pulls off the effect of firing a red and blue portal (which are located on opposite walls, creating the requisite hall-of-mirrors effect.)
---
Hack A Day is a fount of awesome mods and game themed creations, featured here frequently, and this portal gun which "levitates" a companion cube is one of the best conversation pieces they've come up with yet.
---
Meet AVA, a hologram projected onto a human-sized piece of plexiglass. The idea is that AVA, at some time, will respond to questions, offer answers, and provide reliable guidance in multiple languages to travellers who have just landed and need help orienting themselves and understanding local services.
---