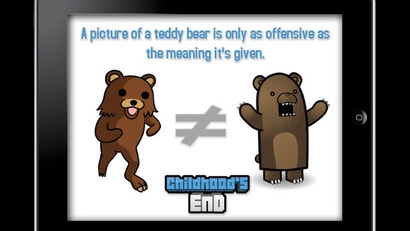 Given the fact Apple is notoriously oblivious to so much other wrong-doing on its App Store, it's always amusing when the company stumbles upon something it actually thinks is important and needs fixing, only to quickly find it does not.
Case in point: iOS tower defence game Childhood's End, which despite Apple originally clearing for release, was later the subject of a review by the company when someone thought the game's name and use of teddy bear characters "might be a recruiting tool for paedophiles".
Seriously.
In order to get their game back on the App Store, developers Pixel Brain had to edit the appearance of the character to be less similar to the notorious internet mascot Pedobear. Even though the original design, as you can see above, looked nothing like Pedobear.
Cute iOS app Childhood's End back online after Pedobear mix-up [Eurogamer]