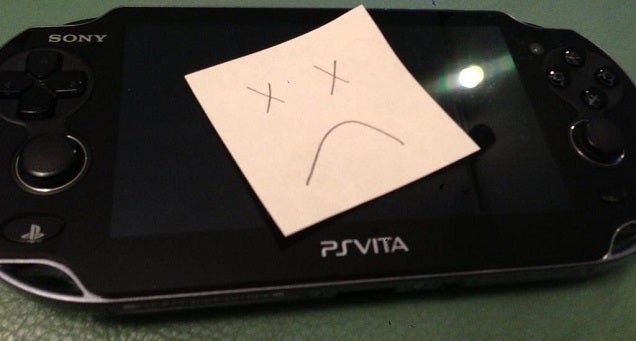 You'd be forgiven for thinking, if you watched today's Sony Gamescom conference, that Sony has already given up on the PlayStation Vita. Sony's 80-minute presser was all PS4, without much mention of its underappreciated handheld. In fact, the Vita even lost an exclusive — Tearaway — giving gamers one less reason to buy an expensive new portable system.
It's too bad, really. I love my Vita — in fact, Danganronpa and Danganronpa 2 might be my favourite games of 2014 so far — and I wish it had more support.
Thanks a lot Sony pic.twitter.com/znrO5hFVZA

— Jason Schreier (@jasonschreier) August 12, 2014
My two favorite games of 2014 are both on Vita (Danganronpa 1/2) so yeah it'd be lovely if Sony would remember that the thing existed

— Jason Schreier (@jasonschreier) August 12, 2014
Clearly I'm not the only one. Tons of reporters and developers took to Twitter this afternoon with plenty of jokes and critiques of how Sony has neglected their handheld system:
I thought I was told that we were going to announce "nine" new Vita games at Gamescom. Turns out they were saying "nein" #PlayStationGC

— CEO Kaz Hirai (@KazHiraiCEO) August 12, 2014
If Sony came out and said the VITA was actually just a shared hallucination a bunch of us have been having for the last 3 years, I'd buy it.

— A Colossal Bummer (@alex_navarro) August 12, 2014
The Shocking Truth that Sony Doesn't Want You to Know: The Vita is awesome.

— Robert Boyd (@werezompire) August 12, 2014
Sony can almost hear the sound of a beating heart, imagines a floorboard thrumming insistently, as if the Vita were still alive underneath

— Leigh Alexander (@leighalexander) August 12, 2014
Y'all expected Vita news? Why? Sony set a precedent of not talking about the system. Move on.

— Neal Ronaghan (@nron10) August 12, 2014
Great show Sony. So many crazy games. Lots of great devs. Bang on. (No vita makes me sad though...)

— Nathan Vella (@Capy_Nathan) August 12, 2014
Kinect/Vita is done. Microsoft/Sony's little experiment with motion controls/portable systems is over.

— Joe Fourhman (@fourhman) August 12, 2014
The criticism towards Sony over its refusal to cover Vita in its conferences is pretty justified. Is Sony ashamed of it? Embarrassed?

— Pete Skerritt (@PeteSkerritt) August 12, 2014
Have all the stability updates you want Sony, but you can't bring the Vita back from the dead with a stability update.

— Not Reggie Fils-Aime (@Reggie_NOA) August 12, 2014
That Sony press conference convinced me that I need to buy a Vita right now…because Sony may not be selling them for much longer.

— Darth Clark (@GI_Darth) August 12, 2014
Is the Vita canceled?

— Alexa Ray Corriea (@AlexaRayC) August 12, 2014
So if Microsoft is abandoning Kinect, is Playstation abandoning Vita?

— Andrea Rene (@andrearene) August 12, 2014
I'll give you the €11 in my pocket if you'll talk about PS Vita, Sony. Please

— Dale North (@DaleNorth) August 12, 2014
It's worth noting that Vita actually LOST exclusives today, however. Nothing was announced for the handheld of consequence. Very sad.

— Colin Moriarty (@notaxation) August 12, 2014
There are threads on GAF and Reddit wondering why the Vita was a no-show. One particularly nasty Reddit thread is full of anger and frustration from Vita fans who feel like they have been abandoned.
This comes just two months after the embarrassing Final Fantasy Type-0 gaffe in which Sony higher-ups declared that Square's RPG was coming to Vita, calling it a "megaton", only to take back the announcement just a few minutes later. People were not pleased.
Really, if Sony isn't going to support the Vita with big new games, they could at least bolster the library of PS1 classics. And maybe add some PS2 games up in there. Please?