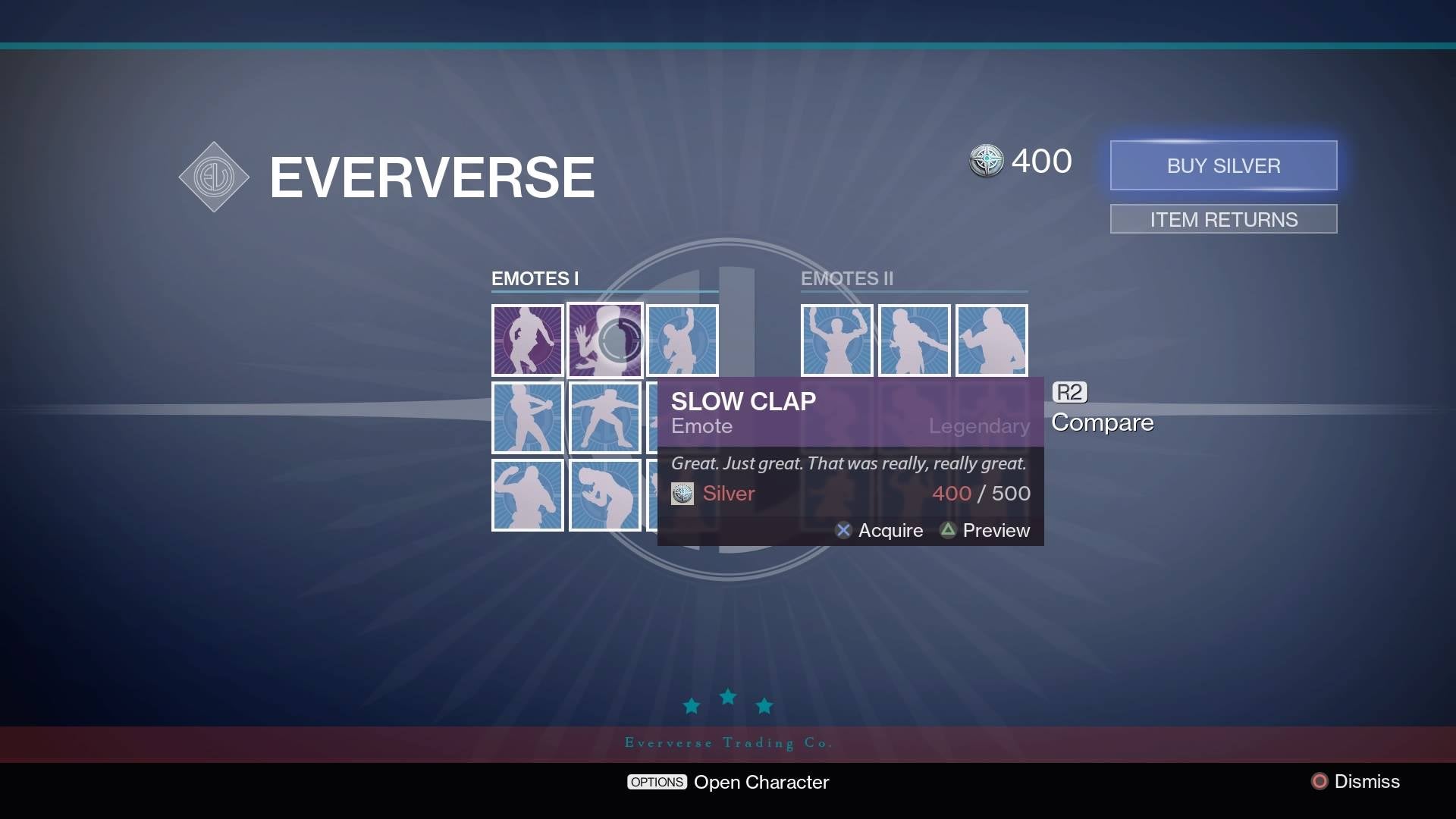 But if you're a normal person and you just want to buy the Carlton dance — that'll set you back $6.75 on the PS4.
If that seems expensive, that's because it is. Literally, the Carlton dance, called the 'enthusiastic dance' in the Destiny store is one of the 'legendary' emotes — in that it costs a lot more than the regular emotes.
Regular emotes cost 200 silver — which roughly translates to $2.50 Australian. That seems a little more reasonable.
Like most micro-transactions the actual cost of each emote can be tricky to calculate, since you buy in-game currency then spend that currency. It makes sense — kinda obscures the money you'll be spending on dance animations.
There are 18 emotes in total. 16 of them will cost you 200 silver.
There are two Legendary Emotes...
— Enthusiastic Dance — Slow Clap
Those both cost 500 silver ($6.75) whereas the the rest will set you back 200 Silver ($2.50... roughly).
You have to buy the silver in packs. Like...
500 Silver — $6.75 1000 Silver (plus 100 bonus) — $12.95 2000 Silver (plus 300 bonus) — $25.95
Okay, now I'm going to have to do some mathematics. Please be patient with me.
There are 16 regular emotes at 200 silver each. There are two legendary emotes at 500 silver each. To buy them all you're gonna need 4200 in silver. Destiny provides players with 400 silver to get started. That means you'll need to buy 3800 silver to buy all the emotes.
You could...
Buy three 1000 silver packages (3300 silver in total) and add one 500 silver package to get the 3800 required.
That costs $45.60.
Or you could buy one 2000 package, one 1000 silver package and one 500 silver package. That leaves you with 3900 points — 100 more than you need and it'll cost you 45.65. A whole five cents more.
Of course, that's if you want to buy all the emotes. You probably don't. You can only equip one custom emote at a time, so you'd probably be crazy to buy them all. As I mentioned, you probably just want to buy the Carlton dance and be done with it!
Or you could just not buy them!