EA kicks off the annual roadshow for another year. I'll be covering the proceedings live, so join me and let's have some fun.
Saturday 2000: So, here we are yet again. As is customary, because these things start at ungodly hours (although not as painful as the 0200 AEST wakeup on Wednesday for Nintendo) we're starting late the night before.
So, some basic housekeeping. Updates will be posted underneath, so you can recap proceedings chronologically. If you'd like to follow along via a second screen, the livestream links you need are below:
Once again, EA has the honour of kicking off the annual E3 shenanigans with their E3 conference that's not part of E3 at all.
Read more
And if you still need to set alarms for the rest of the conferences, all the times you need are here.
Right. I'll be grabbing a drink and a bit of chocolate quickly, so excuse me.
2015: As is customary, the YouTube livestream will kick off an hour before the conference is scheduled to begin. A countdown appeared around 23 minutes before the show actually started (although there was a couple of hours of nothing before that).
As for the conference itself, we know Anthem, Battlefield 5, Madden, another round of FIFA, NHL and NBA Live will show up.
EA does typically show off one or two indies every year, and with A Way Out doing as well as it did, I imagine EA will continue investing. On top of that, The Old Republic is still kicking along, and Respawn has been working on a Star Wars game for a while.
Wonder if they'll show anything off this year, given what happened to Visceral's efforts.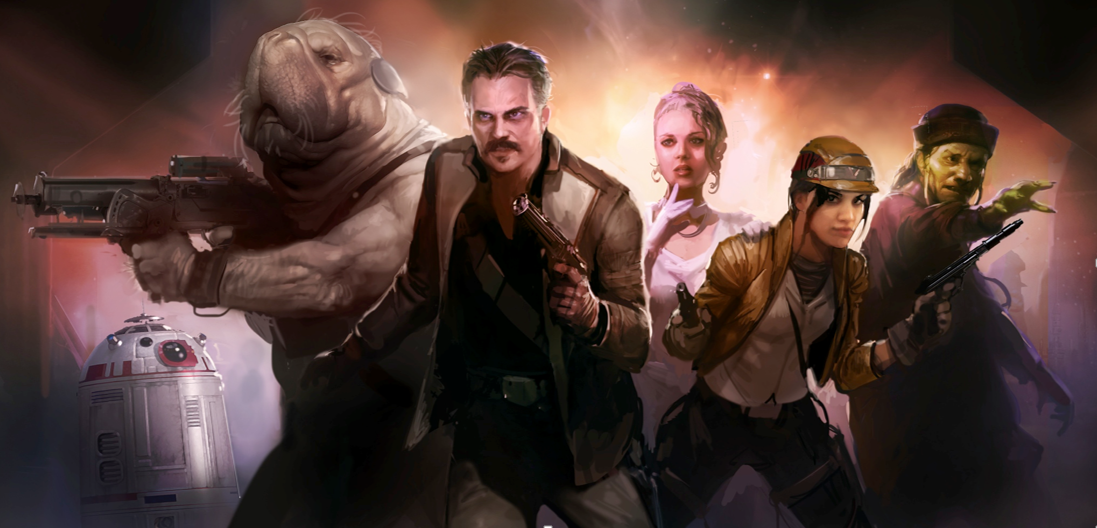 Key art for Visceral's Ragtag, which told the story of a band of characters fighting against a mob boss. In the center is the protagonist, Dodger, a Han Solo-type rogue with a charming moustache.
Read more
2025: Casting an eye further than EA, it's been a fun weekend.
Something I've been binging over the last 24 hours is Killing Eve, a new series that popped up on ABC iView over the last week. It's a BBC America spy series with a MI5 investigator as she hunts down an international assassin. I'll try and write something longer about it once E3 settles down, but if you have the chance, fire it up as soon as you can. Tonight, if possible. Here's the trailer.
We've still got several hours until EA kicks off; plenty of time to squeeze in an episode or two.
2030: So, some early predictions or at least thoughts on how the morning might play out.
While Bioware's big card is Anthem, we're not going to see that for at least a year. Is now a good time to talk about the next Dragon Age? Bioware developers have spoken about it openly before, including Casey Hudson:
Reading lots of feedback regarding Dragon Age, and I think you'll be relieved to see what the team is working on. Story & character focused.

Too early to talk details, but when we talk about "live" it just means designing a game for continued storytelling after the main story.

— Casey Hudson (@CaseyDHudson) January 25, 2018
EA and DICE teams have been super cautious around microtransactions as well, and we'll get to see how EA tries to move on from the Battlefront 2 debacle.
2045: Neat comment from djbear here:
I guarantee EA will repeatedly mention how BFV wont have any Lootboxes and will say "We have listened to the community".
My bet is Patrick Soderlund ends up saying a few words about it (which makes it easier later, or earlier, in the conference when someone starts hyping changes to FIFA Ultimate Team).
2050: Some added news from the last 24 hours that's also interesting: Tencent has struck a partnership with JJ Abrams to launch a video game division of Bad Robot, the production company responsible for Lost, Westworld, the Star Trek reboot films, Super 8 and lots more.
Bad Robot Games will be teaming up with existing developers, lending out their own in-house talent to work on the projects. More here at the Hollywood Reporter, if you're interested.
I'd take a good Robot Chicken RPG, if someone could make that happen.
2055: Speaking of things that people – or fans, in this context – want to happen, Skate 4.
Hayley wrote earlier in the week that servers for Skate 3 had quietly come back online, and the fan campaign for a Skate 4 has gained steam over the last 12 months. But we've been down this road before.
If EA wants to make good with a fan favourite, I think they'd get a lot more bang for their buck by revisiting Need for Speed: Underground. Although there's always oddities with licensing and branding around games like those, problems that the public never sees.
That said, we did get a Burnout Paradise remaster earlier this year. And surely Criterion are a bit too good to be a supporting studio until the end of their days. (A fully fledged Star Wars dogfighting game in PSVR would go down a treat, come to think of it.)
2120: Ever tried to play Lucioball when your own teammate keeps hitting it back to your own goal? I just got that, yeuch.
Anyway, I want to talk about Anthem for a little bit.
Here's what they showed off last time around:
What I'm interested to see is how the Anthem world is connected and functions on a day to day basis. It's obviously built for a live element, Destiny style. What's the hub world? What connects one gameplay moment to the next?
Also, what's the point of all of it? I'd like to know a bit more about the setup and story. That's Bioware's forte, after all.
2200: We've got about six hours until proceedings begin. I'm going to have a quick nap, but I'll return around 0300 AEST with a coffee, probably a biscuit, and some yoghurt because I'm silly and don't understand that you should eat warm things when it's cold.
Hopefully we'll not have any leaks by then. Although that hasn't been the case the last couple of years, so who knows. See you soon!
2240: One final thing before the morning:
Hmmmmm. Something announced later today? pic.twitter.com/7VN4RCJ407

— Shaun McIlroy (@shaunmcilroy) June 9, 2018
That's one of EA's indies sorted, then.
Sunday 0300: Right, I'm back.
Time to make a coffee, then!
0305: Fun little note from Jason in the US, who's on the ground floor for EA Play:
Huh I wonder if we'll see Anthem today pic.twitter.com/A7hyhLNCfw

— Jason Schreier (@jasonschreier) June 9, 2018
0310: Huge thanks to my home ISP for now – Internode. Their online portal gracefully just let me flip over my internet profile from lowest pings to something more suited for livestreaming, in the space of minutes at the dead of night. Always helpful.
0311: OK, time to actually turn the coffee maker on. Let's see if I can pull this off without being murdered by Tegan.
Jesus this thing is loud.
0312: And because I have little will to live, why not microwave some berries too?
0315: Success! I live to blog another night.
0320: EA's broadcasting through Mixer this year. I assume they must have done so last year, but I don't remember it. Either way, I've updated the livestream post with all the embeds you can need/want.
0325: I'll be recording the stream live while it's going, aiming to get nice screengrabs and GIFs throughout.
Here we go.
0331: The pre-show hosts are mentioning that EA Play is a three-day event. And then the hosts go: "Do you hear this AMAZING ECHO?"
Oh yes, yes we do. Psst: it's not amazing.
Gracefully, that echo has now been shut off.
0333: This dude has a belt for winning his Madden fan league.
Now we're talking to a diehard Titanfall 2 fan. This dude is nervous as hell but loves the crap out of Respawn's stuff. Good for him. That campaign was tops.
0336: Time for a quick Madden cutaway, specifically on mobiles.
Madden NFL: Overdrive drops August 15, apparently. It's got a new graphics engine, as two devs talk with their faces in iPads.
0343: Oh god that's annoying. It's FIFA time, so let's scream goal.
Did he just make a pay-to-win joke?
0347: 100 different streamers are going to be showing off their wares, one hour each, from a special booth. Sounds about right.
Now, brief Sims time. Brief trailer for Sims: Seasons plays.
EA's recruiting team is now getting a brief run, talking about getting into the games industry. "Network with who you know in the industry," the recruiter says.
0355: Five minutes to go. And before the conference, a reminder that EA runs focus tests. Like every other publisher.
0358: Let's head inside.
0400: And here we go.
0401: EA leading off with some holographic stuff: Anthem, obviously.
0402: Battlefield, FIFA 19, then two indie games before Anthem. That's the order of the first few bits of the show, anyway.
Talking about War Stories now, moments of "human heroism". "The war through the eyes of the men and women who shaped the war, real and relatable," one of the devs explain.
There will be a War Story – Nordly – shown off during the Xbox briefing tomorrow, they add.
"No lootboxes, no premium pass."
0406: "Royale – reimagined for Battlefield." There we go. More details that later this year, however. Glad to know that's confirmed.
Conversation shifts to ground operations, though. And then it goes to FIFA, where the Champions League music plays.
Guess who got a new license?
0411: Hans Zimmer collaborated on a FIFA trailer. Good lord. If anything tells you how much money FIFA makes, it's that.
An authentic Champions League tournament mode will be in FIFA 19, and Alex Hunter will chase the European cup in the singleplayer campaign. More Ultimate Team features later this winter, and a confirmation of a release date: September 28.
0413: The FIFA World Cup was just updated into FIFA 18 on all consoles and PC. Added bonus, the chat between this pair on stage is infinitely better than most pre-scripted dev chatter.
Bet we'll still get some aggravatingly obnoxious fake team chat during the Anthem playthrough, though.
0416: Andrew Wilson graces the stage. He's talking about subscription methods and mentioned that a new team from Israel has "joined EA" to talk about their push into cloud gaming.
"Today, we're announcing Origin Access Premier." It'll have all PC games – Madden 19 is coming to PC, FIFA 19, Anthem and Battlefield 5.
0419: And we're sitting with Vince Zampella, and a quick Respawn logo flashes on the screen. Whatcha got, mate?
"We're not ready to show all of our stuff yet … we've been working with Lucas on getting the name and setting for what our Star Wars game is going to be," Zampella says. Jedi: Fallen Order is the name of Respawn's Star Wars project.
"It takes place during the dark times … when the Jedi are being hunted," he adds. It's between episode 3 and 4, canon-wise. Due date so far is Christmas 2019.
0422: Hello Dennis. This should be fun.
This can't be easy. The dev mentions that DICE loved building Ewok Hunt, and Solo content and the Kessel movie is coming to Battlefront 2 next week.
Soon-ish, there's a new Squad system and a new Starfighter mode. Interestingly, the Battlefront 2 footage has already repeated itself three times. Eep.
Also: Battlefront 2 will go into Clone Wars content. Will include "the largest level we have ever built for Battlefront". General Grevious and Obi-Wan Kenobi are getting added to the game with the Clone Wars rotation, along with Count Dooku and Anakin Skywalker.
"I really think this game has a bright future," the DICE dev continues, telling people to enjoy the rest of E3.
0426: Unravel 2 time. Yarny has a friend now!
There will always be two characters, whether you're playing in co-op or not.
0431: This looks adorable. I want to hug the bird.
For added posterity, here's something you won't see at E3 and EA Play too often: the developer UI.
Here's the official trailer:
Oh by the way: Unravel 2 is out today – although I can't see a store listing on Origin just yet. Might only be on consoles.
0435: Next indie: Sea of Solitude, courtesy of Jo-Mei Games. Enter the next Yarny EA developer, who has to do a little meditating on stage before resuming the pitch. I love this stuff.
Kraftwerk shirt on stage ✅
genuine dev that's just super happy to be on stage ✅
talking about shit that just sounds cool ✅ pic.twitter.com/NNwJUMOvuv

— Alex Walker (@dippizuka) June 9, 2018
0440: Trailer plays: giant monsters, a low-poly style, a huge bloody bird, and a protagonist that looks hairy as all hell.
Sea of Solitude is due out early next year.
0443: It's the Madden 19 portion of the conference, which means it's time for some atrocious stage banter to take place. Props to the Steelers player for some ballsy style though:
Damn at those pants. I can't listen to this esports road to glory interview though.
And look: a mobile C&C game. Bringing out some oldschool StarCraft 2 names. Or name, really.
Amidst all of this, here's some extra Sea of Solitude shots:
It's Clash Royale meets C&C, really:
0451: Unsurprisingly, the guy who spent years playing StarCraft 2 is monstering the mobile gamer.
INconTrol quips that "I just came to make mammoth tanks". Command & Conquer: Rivals is the official name:
0456: Andrew Wilson talking about nobody getting "an unfair advantage or disadvantage" through gameplay. "Most importantly, that the games are fun, that we move past the grind and these are experiences that truly enhance your lives," he adds.
Now talking about EA donating $1 million to three charities working on equality, anti-bullying measures, and inclusion.
Anthem time.
0459: "The Anthem is all that remains," a voiceover says, with another mentioning a wall.
So you're a group of soldiers setting out beyond the wall to find hope, new shelter, survival?
0502: Bioware's doing a little Q&A on stage now, Casey Hudson remarking on "what's the evolution of a Bioware game". Hudson apparently worked on Anthem before he left EA, which is intriguing.
"Not an MMO, not a multiplayer with story bolted on the side," he quips.
Mark Darrah, executive producer of Bioware, then looks down at his cards before answering how story works in Anthem.
The concept art looks *neat*.
So fun addition: the Anthem world is a shared instance, until you return to your home base. The game then shifts to a singleplayer instance.
The suit of armour is called a Javelin; the Anthem of Creation is basically a force that changes and affects the in-game world in various ways, like storms or mutated monsters.
Footage and concept art is repeating on stage for the fourth or fifth time now.
There's four basic Javelin types:
Ranger, Storm, Interceptor and Colossus.
0510: Vanity items will be purchasable – no loot boxes, no ability to pay for power. "No ability to spend money on gameplay advantage in Anthem," the Anthem EP reiterates.
0514: Some fun shade from the PUBG team during the conference:
.@Battlefield *WAVES LOUDLY* WELCOME OLD FRIEND <3

— PLAYERUNKNOWN (@PLAYERUNKNOWN) June 9, 2018
Now, let's strap in for some gameplay. Lots of damage counters with heavy drop shadows.
0517: Sounds like Stephen Merchant doing the VO there.
February 22, 2019 is the Anthem release date.
0520: So, quick recap while a range of slightly stunned and not-quite-prepared athletes and YouTubers/internet celebrities dominate the camera.
Anthem drops early next year. Battlefront 2 is getting Obi-Wan and General Grevious as Clone Wars content drops later this year. Unravel 2 is out now, and it's actually listed on Origin this time. $29.99, if you're wondering.
FIFA picked up the Champions League license – surprise – and Command & Conquer is back as a mobile RTS game. And Battlefield V will have a battle royale mode.
Respawn Entertainment, the studio behind the awesome Titanfall 2, shared details on their upcoming Star Wars project today at the EA Play press conference. It will be called Jedi. Fallen Order and take place during the time between Episode III and A New Hope.
Read more
Battlefield V bring the series back to World War Two and, dear God, has playable women. EA revealed more details today at the EA Play press conference including a closer look at the game's multiplayer. And of course, that means a battle royale mode.
Read more
Anthem will launch simultaneously on PC, PS4 and Xbox One next February 22, EA announced at its EA Play conference today.
Read more
0535: People are screaming about FIFA on stream. Nope, not for me.
So, that's the EA E3 2018 conference aka. EA Play for another year.
Pretty light as far as the Star Wars content. Bit disappointed that The Old Republic wasn't mentioned whatsoever. Even EA's mobile Star Wars games didn't get a big mention. Wonder what Disney thinks of that.
But it was nice to see a little more about how Anthem flows. And Unravel 2 looks neat. But this year's conference was more about talking, more about listening, and not an awful lot of showing. Gracefully, there wasn't any Hoop Gawd and the fake banter was kept to an absolute minimum. (And some of the devs on stage were lovely to see, especially the Sea of Solitude lead with a Kraftwerk shirt. Legend.
That'll be it for me until later this afternoon, when we'll resume things again for the Microsoft liveblog. Remember: 0600 AEST tomorrow for Microsoft, and 1130 AEST for Bethesda.
See you later today, and thanks for joining me.
0604: One last thing before I go: streaming.
EA gave a little chunk of time to talk about their cloud gaming tech, even though it's obviously not ready for release this year. It's intriguing given that not only is regular Australian internet not in a great place for that – internet in the United States, one of EA's biggest markets, isn't that ideal either.
Sure, there's connections that can handle it just fine. But in a year where the US has gotten data caps and gone through all sorts of nonsense on the internet front, cloud gaming seems maybe a year or two ahead of the tech. But keep an eye out on that – it might not be the last publisher we hear talking about streaming, given how Ubisoft's CEO has talked about the next console generation possibly being the last.
Anyway, I'll be back for Microsoft later tonight. Enjoy the rest of your Sunday, everyone!