Virtual reality has certainly come into its own over the past few years, as technology has evolved to produce games and headsets worth investing in.
PlayStation has been at the forefront of the movement, engineering the PSVR to offer a completely immersive user experience and put gamers at the centre of the action.
As we approach Christmas, the New Year and beyond, there's never been a better time to buy into virtual reality.
Here's why PSVR is worth the money, and what games to pair it with to get the most out of the device.
This guide is presented by PlayStation VR. Immerse yourself in extraordinary new worlds, put yourself at the centre of an incredible gaming universe and experience a new way to play with PlayStation VR.
Getting Started
The PlayStation VR is a virtual-reality system that works with any PS4 or PS4 Pro. Players are transported into games and can freely move around to explore 3D worlds.
The headset itself consists of a 5.7-inch OLED screen that offers impressive 360-degree vision at 120 frames per second, while the accompanying PlayStation Camera tracks your movement.
There are also plenty of titles available for PSVR, with over 200 games and experiences to make the most of those specs.
PSVR is one of the easiest, most comfortable and cost-effective ways to get an immersive gaming experience in your living room, with the Starter or Mega Pack setting you up with everything you need to get going.
A console alone does not a gift make. You'll need some games to go with that, so here's some suggestions.
Read more
PSVR headset
PlayStation Camera
PlayStation VR Worlds
PSVR headset
PlayStation Camera
Astro Bot: Rescue Mission
DOOM VFR
The Elder Scrolls V: Skyrim VR
WipEout Omega Collection
PlayStation VR Worlds
Best Games
The Mega Pack includes five games to get you started, including some of our favourite titles such as Astro Bot: Rescue Mission and The Elder Scrolls V: Skyrim VR. Here is our pick of the best games to play on PSVR.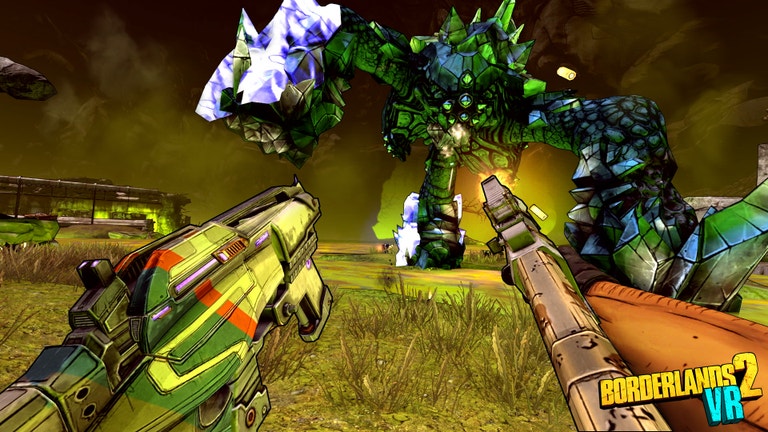 Borderlands 2 VR – Gearbox's legendary shooter-looter has been totally reworked for PlayStation VR. Build your weapons and hunt down Pandora's vaults – all in virtual reality.
Astro Bot: Rescue Mission – This adventure rescue mission sees you peeking around corners and clearing paths for your crew, as you take control of Astro to avoid enemies and traps.
Sony's Astro Bot Rescue Mission for PlayStation VR is the latest virtual reality platformer, and it's got a lot going for it.
Read more
Creed: Rise to Glory – Train with the iconic Rocky Balboa before getting in the ring as Adonis Creed to become a champion. The responsive VR technology playfully mimics the blows of a real-life boxing match.
Beat Saber – The aim of the game is to use your body to slash cubes to a musical rhythm with light swords. It's as fun and energetic as it sounds.
Tetris Effect – A classic reimagined, Tetris Effect creates fully-3D worlds that react to how you play. The sensory experience allows full focus and gives a modern twist, but the genius of the original game remains untouched.
Before Tetris Effect's beautiful reveal trailer was posted last month, I didn't know that game developers made games for just one person — that person being me.
Read more
The Elder Scrolls V: Skyrim VR – Explore the scale and beauty of Skyrim on a whole new level as you make your way through the realm. The VR version includes the core game and Dawnguard, Hearthfire and Dragonborn expansions.
Resident Evil 7 – Step inside the nightmare from start to finish, as PSVR puts you at the centre of a game of survival.
Gran Turismo Sport – The VR-compatible Gran Turismo Sport puts you on the course for the first time. Turn your head to explore any track and keep an eye on your opponent.