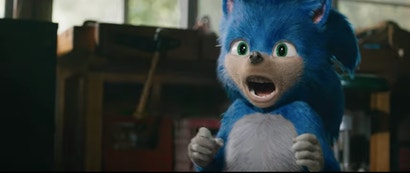 After the design of Sonic in the upcoming live-action flick received a torrent of condemnation, the movie's director has revealed that Paramount and Sega will be taking action.
Director Jeff Fowler announced on Twitter early Friday that Paramount Studios and SEGA, the companies behind the live-action film, had finally received the message. "The message is loud and clear... you aren't happy with the design [and] you want changes," Fowler wrote. "It's going to happen."
Thank you for the support. And the criticism. The message is loud and clear... you aren't happy with the design & you want changes. It's going to happen. Everyone at Paramount & Sega are fully committed to making this character the BEST he can be... #sonicmovie #gottafixfast ????✌️

— Jeff Fowler (@fowltown) May 2, 2019
Sonic the Hedgehog is still due for release this November, so that doesn't leave a lot of time for a redesign and a reshoot. Some fans have already suggested alternatives, including this more stylised look from Edward Pun that shortens Sonic's legs:
Left is original screenshot. Right is my rework to make #Sonic more stylized. pic.twitter.com/IhXeAZYlQI

— Edward Pun (@EdwardPun1) April 30, 2019
Another path would include ditching the pseudo-realistic fur look, and adopting something more cartoonish akin to the original character designs.
Do this pic.twitter.com/tjS6gt4WmE

— GK (@GK037) May 2, 2019
Sonic's character isn't being played by a human in a suit or a fixed physical model, so changes can be made in post. It'll certainly make the next trailer a lot more interesting. But how much workload is going to be put on the visual effects team, especially if the movie isn't being delayed?
More importantly: should they have caved at all? Sonic's design looks awful, but Sonic also isn't a movie for adults. It's a movie for kids. Should a whole team of animations pulling 12, 14, 16 hour days until November just to satisfy the wrong target market?