There's no better combo than the internet and dumb stuff, and when you add streaming to the mix, naturally some people will need to be removed for their own good.
Twitch as a streaming platform has been around for around 12 years, if you're including the time when it was first called Justin.tv. It's been known as Twitch since June 2011, after the company saw the mass popularity around video game streaming. It's since become the only platform that has genuinely become an alternative social presence to the juggernauts of YouTube/Facebook/Twitter, with Twitch streamers and YouTube channels joining Instagram in the rise of influencers (and the marketing dollars behind it).
As streaming has evolved, so has its content and the production levels behind it. As much as it is a home for live tournaments, Zelda speedruns and the Tetris World Championships, it's also a home for podcasts, cooking, group therapy, shared izakaya from Tokyo and all manner of windows into people's life.
But the more people dive into the ecosystem of bits, cheers, subscriptions and memes, the more common sense starts to disappear. Twitch's removals are an important sign of the platform's pitfalls, so here's a quick history of some of the more prominent streamers who have fallen afoul of the site's terms of service.
---
Dr Disrespects toilets
There's nothing like toilet humour for a bit of publicity. One of the most famous streamers on the planet, Guy "Dr Disrespect" Beahm wandered into a public bathroom at E3 2019. After the fourth livestreamed incident of taking a slash in public, not only did E3 pull Dr Disrespect's press credentials, but Twitch gave the streamer a two week suspension for his efforts.
Because Dr Disrespect is such an enormous presence on the platform, his removal was an initial boost for other mid-to-large streamers. But as many pointed out, the suspension was only likely to result in one thing: more popularity for the Doc.
"The guy is a publicity magnet … he's gonna be bigger now than ever, when he comes back," developer and streamer CrankageGames said at the time. And they were right. When Dr Disrespect returned, he was greeted by a high of 80,000 concurrents, four times higher than his E3 streams, more than double Ninja's peak concurrent viewership at the period, and more than any other streamer on the platform.
"Oh trust me, we've got a lot of plans for IRL [streams]," Dr Disrespect said when asked about doing more IRL content. "All these dumb-dumbs saying, 'That's your last one.' Go move into your next box and lock it. Permanently."
The Young Turks says America brought 9/11 upon themselves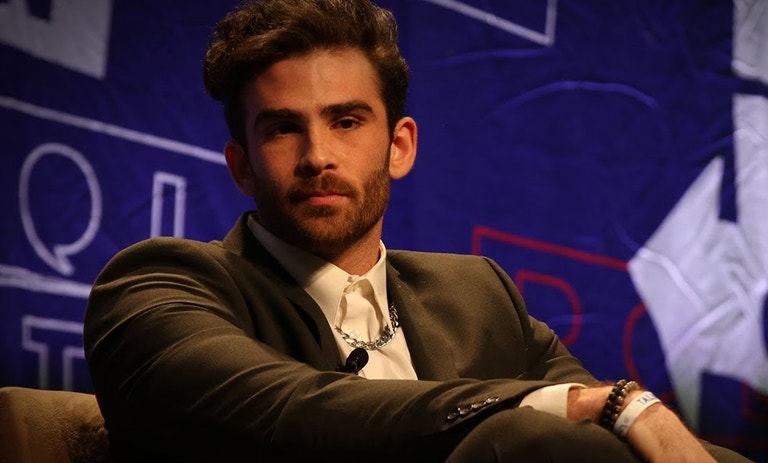 Twitch didn't start life as a platform for political discourse, but the evolution of channels like former Starcraft 2 streamer Destiny and The Young Turks have shown how Twitch's interactivity can be successful for that kind of content.
However, there's still some things that will always result in a swift ban no matter the context. In the case of Twitch, an American-headquartered company, and leftist streamer Hasan Piker, that line is September 11.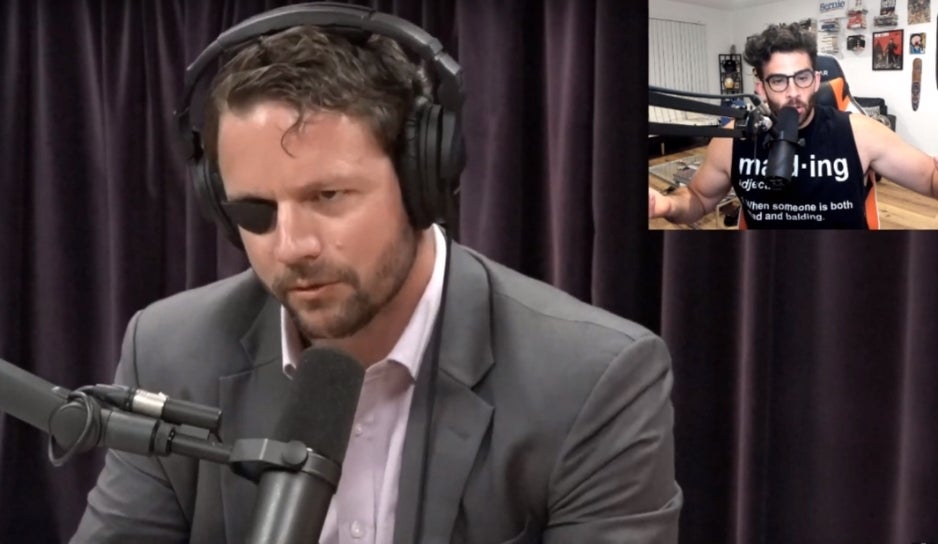 During a Twitch stream earlier this week, popular leftist streamer Hasan Piker made a statement that would, by pretty much any measure, be considered incendiary. "America deserved 9/11, dude," he said. "Fuck it, I'm saying it." Today, Twitch suspended Piker for one week.
Read more
"Look at the way that this dipshit is running his fucking mouth, justifying genocide right now," Hasan said after suggesting that America deserved the 9/11 attacks. "We fucking fund the people who did 9/11 — still, to this day."
Twitch, which has never commented publicly on the suspension of individual channels, responded by suspending Piker's channel. Piker tried to anticipate this by stopping the livestreaming and deleting the video as fast as he could, but that failed to prevent its spread online.
Deadmau5 drops a slur, then his Twitch channel
Image: Eugene Gologursky/Getty Images for Howard Hughes Corporation
Stream sniping can be a frustrating experience for even the most talented streamers, so it's no surprise that the Canadian producer and DJ Joel Thomas Zimmerman, otherwise known as "Deadmau5", flipped when him and fellow streamer SmaceTRON were targeted while playing PUBG.
Amidst all of this, Deadmau5 went on a verbal rant, calling the offender "that some fucking cock-sucking stream sniper f**". Twitch responded by suspending him for the homophobic slur at the end, which led to Deadmau5 deleting his Twitch channel in frustration.
"I know who I am, and I don't have to fucking sit here and cry and defend my fucking self with the obligatory 'I'M NOT THAT PERSON, I AM SORRY' reflex," Deadmau5 explained in a post on his subreddit, which has since been deleted.
Don't Twitch and drive
The rise of IRL streaming was always going to come with its fair share of stupidity and embarrassment. Case in point: the range of streamers who have been suspended or banned for forgetting that looking at your phone while driving is really, really dumb.
Simply having a dashcam going while driving isn't against Twitch's terms of service. But too many streamers get distracted, don't pay attention to the road rules, or in the clip of the Bri and Kate Teresi stream sisters above, take both hands off the wheel entirely.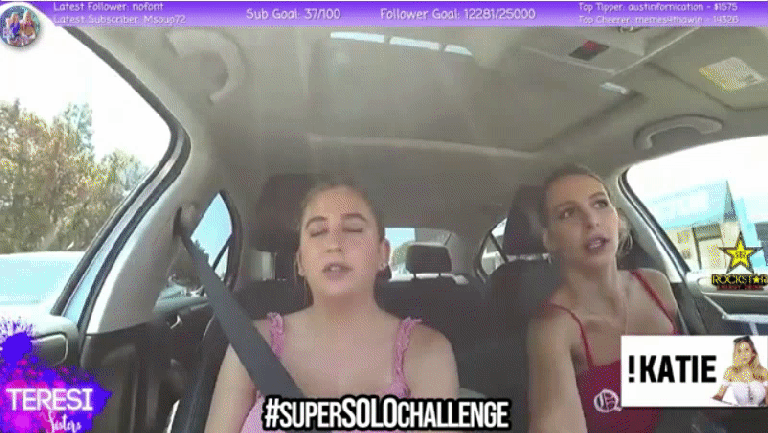 For their efforts, the Teresi sisters had their channel suspended. They've since stopped focusing on the platform and focused more on Instagram and, in Bri's case, Snap. Another streamer, pajalockk, was banned after nearly hitting pedestrians on the street twice in 30 seconds. Streamer Mitch Jones received a suspension after looking at Twitch chat on his phone while driving.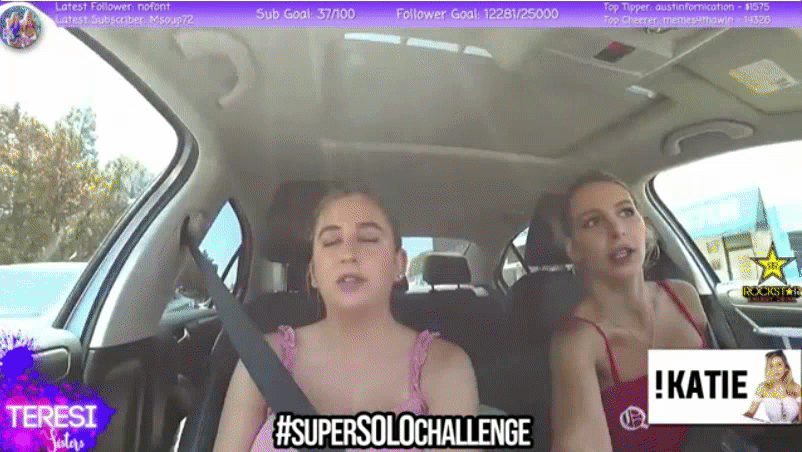 A worst-case scenario: being the subject of a video on the subreddit Livestream Fail titled "Guy wrecks car while reading Twitch chat and driving."
Read more
xQc doing xQc things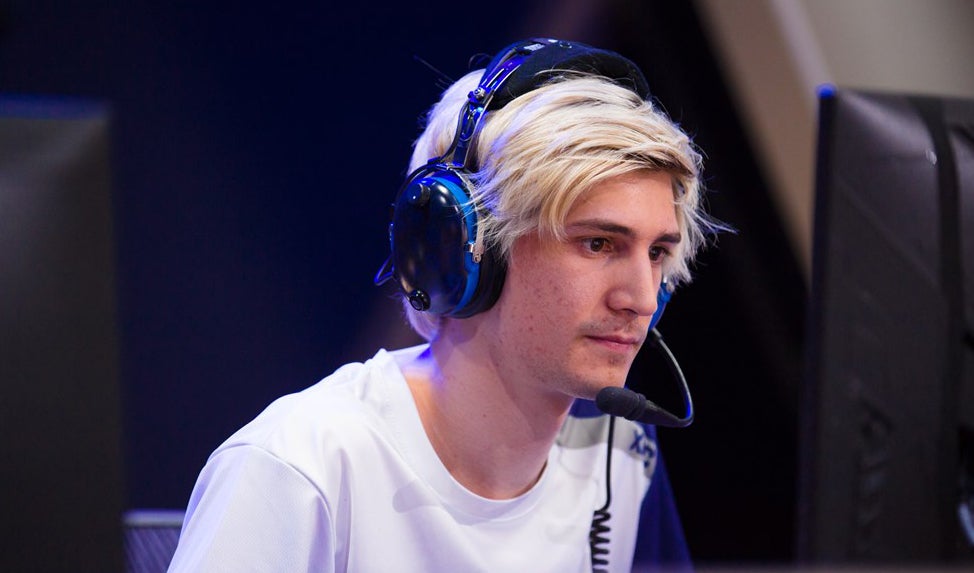 The former Overwatch League professional, Felix "xQC" Lengyel, is no stranger to finding himself on the wrong side of the fence. His Overwatch career came to an abrupt halt after receiving a four match suspension and $US4000 fine for telling a fellow Overwatch pro that they'd enjoy a "big fat cock".
Coupled with his other shenanigans, like a 72 hour ban from Blizzard for misuse of the reporting system and calling an official caster "cancer", it was only a matter time before xQc was released from Dallas Fuel and Overwatch entirely.
But the Canadian's provocative personality is perfect fodder for Twitch. It's also a natural consequence that he'd get suspended or banned from that platform too: after watching a video called "Safe For Work Porn". As it turns out, the video wasn't entirely safe for work. "There's a frame that isn't fully covered and there's a piece … there's a piece of dick that shows up at some point," xQc told his stream.
Twitch suspended the streamer for three days after a review, which went on top of an unspecified ban that he'd received from YouTube. "YouTube specifically asked me — I got a letter in the mail, the letter said, 'Do not stream on YouTube.'"
When you're too much, even for Twitch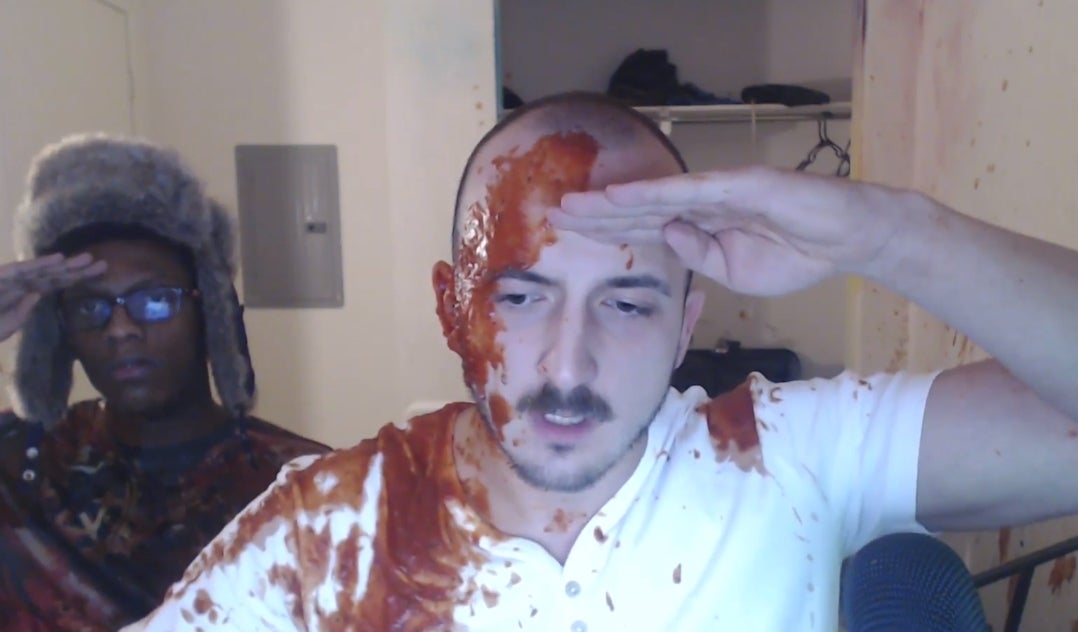 Plenty of streamers have copped a temporary or permanent Twitch ban, but streamer Hyphonix is in a class of their own. The streamer, who specialised in older games like Runescape and other real-life skits, received an indefinite ban in March 2018. Twitch had recently announced their new terms of service and dress code, which Hyphonix took exception to. So they responded by covering themselves in tomato sauce and saluting to the camera.
"Twitch has decided to put new rules into place. Me, and my friend here, Blak, we are sorry, but we cannot do content that is enabling. We cannot do something that's edgy? We are being OPPRESSED," Hyphonix said into the camera.
Hyphonix was allowed to stream on Twitch again earlier this year, but recently Twitch banned his account without saying why. To this day, the streamer-turned-YouTuber is still in the dark.
Two weeks now, no responses or info on my exact reason for my ban, will update once I find out anything one day.

— Hyphonix (@RealHyphonixYT) September 18, 2019
Call of Bikini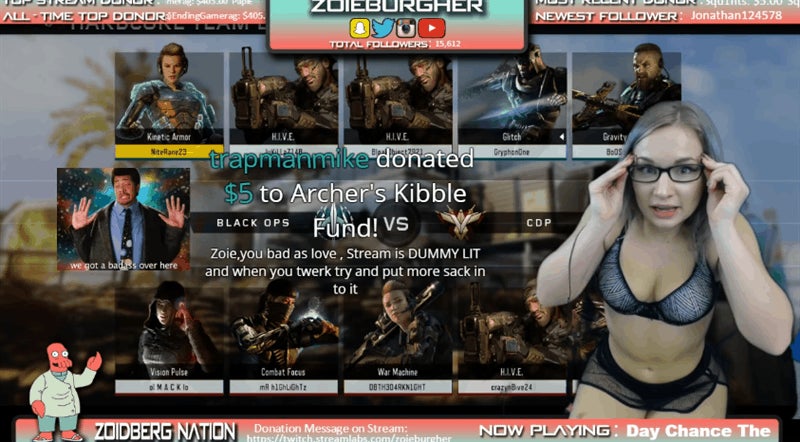 Part of the reason why Twitch's dress code was introduced was to further clarify the edges around what streamers can and can't wear on camera. Zoie Burgher was one streamer who quickly gained notoriety for playing Call of Duty in bikinis and twerking for underage viewers on command. Twitch has always had a clause about pornographic or sexually suggestive content as part of their terms of service, but streamers like Burgher constantly butted up against that.
"I stream, and all that entails: Storytelling, game commentary, chat interaction, fostering a sense of community… while in a bikini," Burgher's stream advertised itself as, taunting enraged viewers further with a quip in her Twitter bio that said her stream was "brought to you by daddy issues".
Burgher's presence was always complicated for Twitch, because it highlighted a double standard among what was and wasn't allowed. But she continued to poke the bear by pointing out how much the outrage and reaction videos to her content was as much a fuel for regular Twitch and YouTube content as her streaming in a bikini.
"I'm a college educated girl, and I could tell you more about the Middle Eastern crisis and its centuries-long dynastic feud between the Sunni and Shi'a than anyone you have ever met … But first I have to do 50 more jumping jacks on live camera because this guy just donated 50 dollars," she said. "Platform is power, and I don't mind using sex appeal to get it."
Zoie Burgher knows exactly what you see when you tune into her Call of Duty streams. She knows that viewers judge her and people assume the worst because of how she presents herself. Burgher is currently blowing up on YouTube anyway, thanks to a recent ban on Twitch.
Read more
Burgher was eventually banned from Twitch for skating too close to the porn line, so she transitioned to a successful YouTube channel. Her career has changed tack however: she's branched into social media management and sex work, and is on the verge of becoming a mother.
"I'm not the same person when I felt it was OK to be twerking on Call of Duty for any random 15 year old that could be watching on YouTube; it doesn't mean I'm better than making that kind of content, and I'm still down to make it … things are just different now," she said in a video where she asked her 1.06 million followers to unsubscribe from her channel.
"Your girl has actually got herself together to be posting on a family-friendly app … if that ain't character development, I don't know what is," she said.
Don't joke about swatting
The threat of swatting is more prevalent now than ever. Tyler R. Barriss was sentenced to 20 years imprisonment earlier this year for swatting a 28-year-old father of two, who was eventually shot and killed by police at the scene.
But there was a time when swatting was seen as more of a joke, so much so that one League of Legends streamer thought it'd be funny to celebrate hitting 800,000 followers by faking his arrest. The streamer's manager later admitted that the arrest was "an extreme FAKE ending for an extremely entertaining Trick2G".
This past Saturday, the popular League of Legends-focused Twitch streamer Trick2g was putting on an elaborate 24-hour live event to commemorate the fact that he'd amassed 800,000 subscribers. He decided to end the stream with a bang: staging his own mock swatting. Come Monday morning, his account was banned.
Read more
Twitch, and most of the audience, didn't appreciate the joke. The platform told the streamer and his manager that they'd violated the terms of service, and the manager doubled down by saying that critics were oversensitive and that America had "lost the right to comedy". "That is why our Country is in the shape it is now, because we fear making light of anything that might be thought of as controversial," Cher Gambino, Trick2G's manager, said in a post on the streamer's website which has since been taken down.
Trick2G posted publicly that he was banned for 4 months, but the ban was lifted before the 4 months was up without warning. He's continued to run a Twitch and YouTube channel ever since, focusing mostly on League of Legends gameplay.
Just because you're not the one streaming doesn't mean you won't be held responsible.
Read more