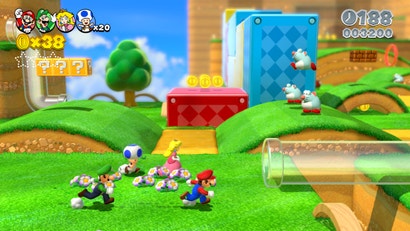 Technically they're both platformers, but they exist on opposite sides of the same spectrum. Super Mario 3D World: the 3D game that wants to pull back, and make you feel safe. Donkey Kong Country: Tropical Freeze: the 2D game that wants to blast into new dimensions and transform your brain into mush.
The same spectrum. Poles apart.
———- Super Mario 3D World. It exists in the same universe as its 3DS predecessor, the superlative Super Mario 3D Land. On handhelds it was a game that worked. Smaller screen, restrained freedom. It was the 3D Mario game designed to feel like a 2D Mario game; the bridge that connected the two.
So it makes sense that Super Mario 3D World is the first 3D Mario game that brings the four player shenanigans of New Super Mario Bros. to a fresh new dimension.
So, quick count. I have written the word 'Mario' eight times already in this preview. It's almost reflective of the saturated brand that Mario has become. He doesn't have one platform game series. He has three. Is it overkill?
Maybe. But Super Mario 3D World feels different. It's a stripped back sort of Mario, a simpler Mario with space to explore and toy with. It's a game that will most likely burst into life and feel clustered when played with four different people. I suspect the game was designed with this as its ideal, but today I had to settle for single player.
I left thinking mainly about two things: cats and tubes.
Like a moustache-bearing hamster, Super Mario 3D World squishes you into a series of tubes, shoehorning the player into a world with a different set of rules. Rules that feel almost like Pac-Man. Choose a direction, move like hell, avoid the bad guys, pick your timing, try and survive.
It's an interesting balance and a bit of a departure for Mario. It's inventive, like a little mini-game. As you rattle down the tube, with enemies in pursuit, the star is your pellet, allowing you to chase the chasee like a powered-up Pac-Man. Same dynamic. Same reward.
Now for the cats.
Super Mario 3D World's cat power up was treated as weird joke by the game's designers, who hilariously showed up to the demo dressed as cats, camp as Christmas all paws and meows. But within the game world the cat power-up is serious business: it's a game changer subtly built into the level design. It feels nice and tactile to engage with.
Scrambling up walls is perhaps the most frantic part. One section of a level featured vertical walls players had to claw your way up. The whole thing felt like a cross between Ninja Warrior and a YouTube cat video with a billion clicks. Jumping, scrambling, somehow making it to the end. Very rewarding. Very cool.
———-
But Super Mario 3D World somehow paled in comparison to Donkey Kong Country: Tropical Freeze. A game that, in a sense, is the precise opposite of Super Mario 3D. A game that wants to push forward, to blast – literally – from its two dimensional confines.
Unlike Donkey Kong I'm not going to beat around the bush. This game was fantastic. Intricate level design combines with a gorgeous aesthetic pushed to visual extremes. Tropical Freeze feels like Retro Studios at the peak of its powers, seamlessly leaping from simple 2D platforming, to gorgeous 3D barrel blasting, to underwater swimming and back again.
It felt like supping on high-powered sherbet. Constantly shifting, constantly defying expectations. Never standing skill, an ADD riddled video game that refuses to let you feel comfortable for a second, perenially begging for attention – look at me Mum! Look at all the things I can do! Look at me jump!
Look at us jump. These games made me excited to 'jump' in a video game. It used to be the verb that dominated, now its on the sidelines. Nintendo is bringing it back. Nintendo wants us to jump.
Might as well.