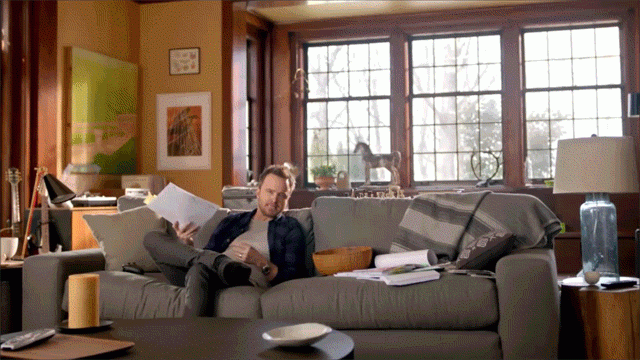 Breaking Bad actor Aaron Paul's latest role is starring in Xbox One ads. In them, he sits on the sofa, and, according to some, turns on strangers' Xbox One consoles. The nerve!
In the commercial, Paul shows off the Kinect voice command features for Xbox One, saying, "Xbox One on." That command is apparently switching on viewers' Xbox One consoles.
Recently, a thread popped up on popular game forum NeoGAF with member MrPressStart saying, "What the fuck.... Sitting here watching tv and the xbox commercial starring Aaron Paul came on. Next thing I know I am reaching for the controller to turn it off."
On Twitter, there are numerous people reporting the same thing — some of which are amused by the situation and others who are not:
Hey! @aaronpaul_8 just turned my @Xbox one on from his tv commercial! #voicecontrol

— sjones71 (@sjones71) June 13, 2014
@aaronpaul_8 stop switching my fucking xbox on!!!

Aaron Paul is saying "xbox on" in the xbox commercial and he's turning on my xbox on while I'm not home. Thanks Aaron Paul. @aaronpaul_8

— Nick Davis (@Nick_Davis22) June 13, 2014

Aaron Paul's so badass he can turn shit on in your house without even being there @aaronpaul_8

— Jamie Haynes (@jimbodini99) June 13, 2014

Only if @aaronpaul_8 had said 'xbox off' in the new advert. Would have been alot more funnier.

— Mark (@PushMyGran) June 13, 2014

Over on Reddit, (via BBC), numerous Redditors apparently experienced the same thing. "Haha, this just turned my Xbone on," wrote larae_is_bored. "Awesome!" Redditor brownbear1992, "Aaron Paul just started my xbox. Guess I better play it now it's on." Another Reddit user, The_Iceman2288, added, "Him saying 'Xbox on' turned on my Xbox. Dammit Jesse!"

Dammit Jesse, indeed!

Odder still, the commercial ends with the Kinect-free Xbox One bundle. You know, the one without the Kinect voice commands apparently turning on random viewers' consoles.

Kotaku is following up with Microsoft and will update should the company comment.

Xbox One: Aaron Paul [[email protected]] Aaron Paul just turned on my XBox one [NeoGAF] Xbox One Aaron Paul Commercial [Reddit via BBC — Thanks Richard!]