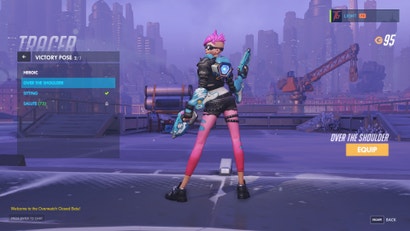 The decision to remove Tracer's over-the-shoulder pose from Overwatch has been a hot topic over the last 24 hours, prompting complaints, debates and petitions about the pose and the way Blizzard has handled the situation.
But Overwatch's director, Jeff Kaplan, has no qualms with the choice whatsoever. In fact, according to a clarification late this afternoon, removing the now-contentious pose was actually easy.
Kaplan, who earlier this morning announced that the pose would be removed from the game following a lengthy thread on the Battle.net Overwatch forums, has further explained the decision.
According to the director, the Overwatch team wasn't overly happy with the original pose. "It was always one that we wrestled with creatively," he explained.
"That the pose had been called into question from an appropriateness standpoint by players in our community did help influence our decision—getting that kind of feedback is part of the reason we're holding a closed beta test—but it wasn't the only factor."
Kaplan went on to say that he has final creative say over everything that goes into Overwatch, and that the decision to remove the post was "an easy one to make — not just for me, but for the art team as well".
He stressed that removing Tracer's pose was neither caving or pandering to the public outcry. It's also part and parcel of sharing an alpha or beta of a game with the public: elements of a game that some people might like are liable to be changed or removed entirely.
"We wouldn't do anything to sacrifice our creative vision for Overwatch, and we're not going to remove something solely because someone may take issue with it."