Out of all the publishers, Devolver Digital are consistently one of the funniest. The games they pick range from include the hilarious, the quirky and sometimes the downright bizarre. But most importantly: more often than not, they're genuinely interesting.
So when I saw a Devolver-themed Humble Bundle earlier this morning, I got a little excited: because it's a range of decent games with wacky trailers that don't cost a lot and don't demand much of your time.
We all know the drill by now. Multiple tiers. First costs bugger all. Second costs sometimes a bit, sometimes not much, and the third more often than not isn't worth the price of entry or you'll already have the game in question.
This is the first time in several months where it might be worthwhile popping for the top tier, provided you have an interest in both the games on offer. But we'll get to that later. Click on the headers to jump through to the bundle.
---
Some pretty great artwork here.
A Fistful of Gun
RONIN
Gods Will Be Watching
A small but pretty solid package. For those who like their adventures to take a gritty, dark turn, Gods Will Be Watching should fit the bill. The situations Sgt. Burden and his squad find themselves in can be pretty horrific, although some might find the difficulty excessively — and unfairly — punishing.
The pixel art is gorgeous though. That can be applied to A Fistful of Gun as well, a top-down co-op shooter that weirdly supports up to 9 players. Each of the characters has a different control scheme as well, presumably so you can have multiple people on the same keyboard. It's worth noting that the story can only be played in local co-op: online only supports the arcade and versus modes.
RONIN's a platformer designed to appeal to the Mark of the Ninja/Gunpoint crowd. It's a turn-based puzzler, where the puzzles involve slitting throats in the most efficient manner possible. There's a bit of corporate espionage involved as well, but predominately you're concentrating on how to dodge bullets.
It looks like a stealth game but it's more of an action puzzler. Nevertheless, it's got some super cool mechanics and really nice music, and for the exorbitant price of bugger all, it's a steal.
---
[clear] There's nothing that I don't love about that video. Note that the
average at the time of writing is US$4.33.
Not A Hero
Dropsy
Shadow Warrior Special Edition
50% coupon for The Talos Principle (Humble Store only, expires May 17)
The Talos Principle coupon would hold a lot more weight if it didn't expire so bloody soon, but I suspect that's probably the point. Fortunately, at least two of what's on offer is interesting — albeit for very different audiences.
Let's start with Dropsy, because it's just plain weird. Look at this GIF Patricia put together from last year. It's just … wrong? I don't know.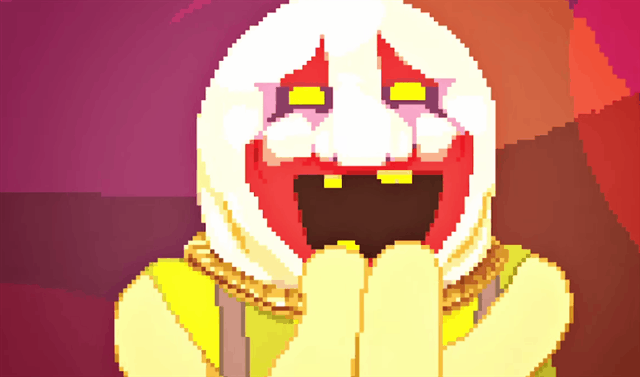 Apparently Dropsy the clown managed to kill his own mum in a circus tent blaze, but he's actually a really lovable character. And he goes around hugging everyone in the town because he cares about them. Although the trailer calls it "his warm damp embrace", which is just a bit bloody creepy.
Not A Hero is a little more manic. The video above kind of but not really illustrates what sort of game it is: a tactical shooter with a heavy focus on cover. It's more or less a side-scroller with a cool plot involving BunnyLord, who is running a re-election campaign while hiring assassins (you) to clean up crime in the city.
But really, just watch that trailer again. It's pretty good.
Last but not least is the Flying Wild Hog's remake of Shadow Warrior, which works pretty well provided you don't mind exclusively using melee weapons. The game runs very well in 4K too, and there are a ton of SweetFX profiles out there that justify giving it a look if you want some eye candy for a few hours.
---
Look at that fat bastard.
Hatoful Boyfriend: Holiday Star
Titan Souls
Hatoful Boyfriend was already worth a cheeky US$10 just for a cheeky present, and the Christmas-themed sequel provides just as much humour. Who can't resist a few anime avian transformations? Also, there's some weird, featherless white creatures looking cheerful in a tank. That supposedly has something to do with stealing stuff from Christmas.
Titan Souls is a bit hit or miss. It's got a cool premise, but mechanically it might be a bit much for most people. The fact that you're just fighting bosses also doesn't work for some; a game like Hyper Light Drifter might be more up their alley.
Given it has Souls in the name and he loves things with a challenge, Mark took quite a shining to Titan Souls last year. Given that Humble is only selling the PC and Mac versions of the game, you won't be burdened with the load times that plagued the Vita port.
But even if you have reservations, the value works out pretty well when you factor in what your US$10 or more purchase gets you. Fans of adventure games will probably get the most value, especially when you consider that RONIN plays out more like a turn-based strategy than an action-stealth game.
So that's it for the latest Humble Bundle, which follows on from the equally decent Telltale offering. (Those wondering what the extra Telltale games were: it was Jurassic Park and Strong Bad's Cool Game for Attractive People.)
What are your favourite Devolver-published games — and am I alone in thinking Dropsy is just a bit too creepy?