Remember that GTA V quest in which you hunted Bigfoot? Then it wasn't really Bigfoot and it felt kind of anticlimactic? Turns out there was a lot more to it (isn't there always?) and of course that meant I had to load up the game again and see if this was real!
Kotaku's Stranger Things series is presented by the new Netflix original: Stranger Things. When a young boy vanishes, a town uncovers a mystery of secret experiments, supernatural forces, and one strange little girl. Watch it only on Netflix from July 15.
 
A few days after GTA V was released there was a bit of a "hunt" for Bigfoot. People wondered if it was real. Turns out it was just a randomly spawning quest that had you chase around a man in a suit. But thanks to people ripping apart the game's code, we now know more. Recently some tucked-away evidence was uncovered, and an as-yet-unknown secret was revealed: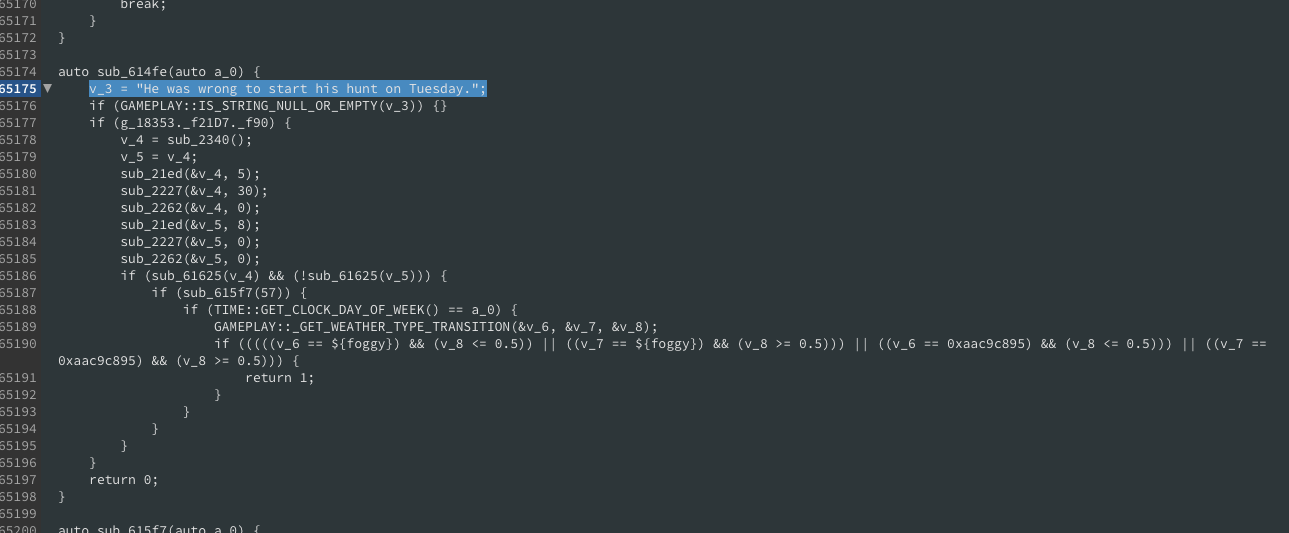 Image credit: rkRusty
This little collection of code told us there was a peyote plant in the game that effectively turned you into Bigfoot yourself. But the brain-boggling, ever-confusing fact was that those coordinates didn't actually point to anything special. Frustratingly, you could high-tail it to each spot and find nothing. Until some recent discoveries were made.
This is the point when my friend and I – being totally carried by the success of these heroic coders – started scouring the landscape, looking for any peculiar signs. It wasn't our efforts that provided the much-celebrated eureka moment, unfortunately — even though we were at the right spot at nearly the right time. It's possibly the type of thing that can only be brute forced by a large community. Certain "conditions" had to be in place before the trip-inducing plant would reveal itself: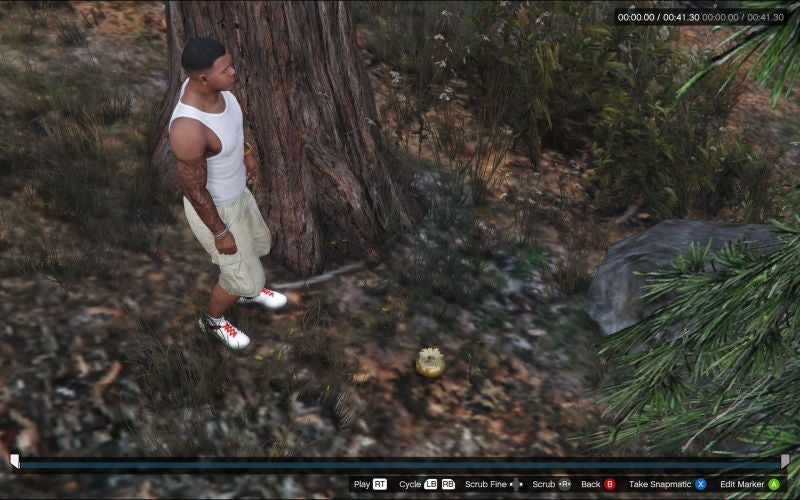 It had to be foggy or snowy. But that's not all… The original plant could only be found on a Tuesday, and there were seven coordinates. That implied the other plants corresponded to different days of the week. With that logic, our global high-hunters found their pot of peyote at the end of the rainbow:
The next step was happily something my hunt-buddy and I could do alongside everyone else in the world, as it was more of a skill challenge. What do you do once you're Bigfoot? Easy. You chase down every other Bigfoot you see and kill it! This was actually a very tough nut to crack however. Much like that equally confounding underwater hatch. Among all the potential victors, it was Louis C. LeBlond who succeeded first:
The reward for the whole ordeal? The ability to turn into "Teen Wolf". That's the main character of an 80s comedy co-starring Michael J. Fox, and the slightly-less-famous F-Troop star James Hampton, while in the game's director mode. There's certainly something innately alluring about the whole "Bigfoot chase" as a concept though – and it'll turn out to be quite a cool prize, especially for fans of GTA machinima – because our obsession with the beast goes a lot further back in history than just the Colorado mountains. Would you believe even the Vikings and other Morse civilisations had a name for it? They might've called it something else ("Skellring" or "barbarian") but it kind of goes to show this is a fantasy chase shared by many around the globe.