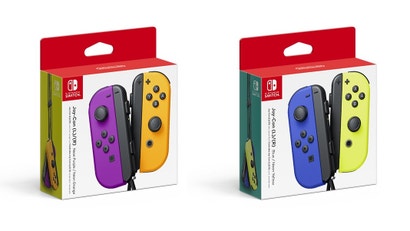 This morning, in addition to a new Switch with longer battery life, Nintendo announced some fresh new Joy-Cons. As a plebeian stuck with drab grey controllers, these neon wonder-cons have literally brightened by day.
The new Joy-Cons will come in two colours: the some what less impressive Blue/Neon Yellow combo and the actually super great Neon Purple/Neon Orange mashup. As someone perpetually jealous of my co-workers various colourful Joy-Cons and cool transparent custom controllers, those that purple and orange combination is looking pretty fantastic.
The Joy-Cons will retail on November 14th for the somewhat dubious price of $US79.99 (Australian pricing had not been announced at the time of writing). Hopefully in the time between then and now, Nintendo can solve the dreaded "Joy-Con Drift" issue. Because what good is some dope controllers if Octopath Traveller's Ophelia keeps running to the left randomly?
All that chatter about an upcoming refresh of the base Nintendo Switch? Well, according to Nintendo Japan's site, it's happening much sooner than you think.