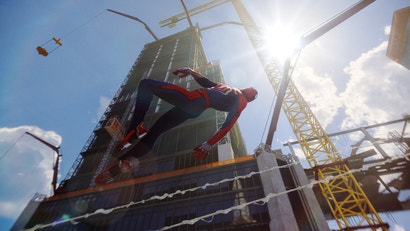 Screenshot: Sony,
Spider-Man
Sony are slinging their own bargains today with cheap Playstation 4 Pros that come with a copy of Marvel's Spider-Man.
You can grab a 1TB Playstation 4 Pro direct from Sony for just $489.95. On top of free shipping, you'll also get a copy of Marvel's Spider-Man.
The free copy of Spider-Man isn't just for people that buy PS4 Pros, anyone that buys a 500GB or 1TB PS4 can also nab a copy.
It's unclear if the PS4 Pro model being sold is the newer, quieter PS4 Pro or the previous model. If you're set on having the latest and greatest model then you can grab that from JB Hi-Fi with a copy of Red Dead Redemption 2 for $479, although you will have to wait until November 26 for that.
Still, if you'd rather zip around New York as your friendly neighbourhood Spider-Man then the current offering from Sony is still a great deal.
Sony are also selling Dualshock 4 controllers for $59 and PSVR for $299.
---
As Kotaku editors we write about stuff we like and think you'll like too. Kotaku often has affiliate partnerships, so we may get a share of the revenue from your purchase.