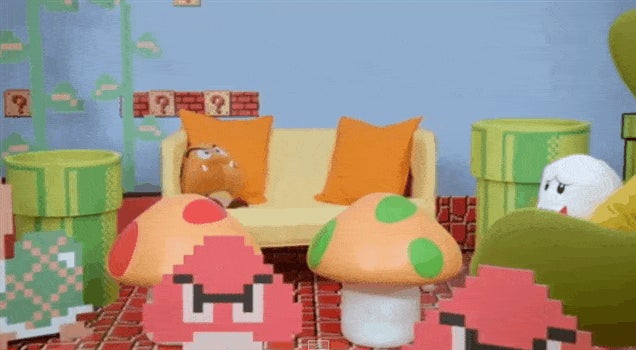 The dust settled, it slowly began to dawn on me. That was it. That was all Nintendo had to show at E3. Oh well, at least we have a ton of puppet GIFs.
I estimate it took me around 30 minutes to realise: it was gonna be one of those Nintendo presentations. A Wii Music E3 as opposed to a Super Mario Galaxy E3 if that makes any sense. The kind of E3 where Nintendo does just about enough to convince you that games are being made, but chooses not to unveil any of its big hitters.
So — no new Mario, no sign of the new Zelda on Wii U. Nothing that substantial on 3DS. Nothing to get 'hyped' about in any real sense. Plenty footage of video games we were already aware of or announcements for games in b-tier Nintendo franchises like Starfox.
And good lord were there a lot of spin-offs.
For Nintendo it truly was the year of the spin-off. There was the Animal Crossing board game, the Animal Crossing home decorating game, Legend of Zelda: Triforce Heroes, a new Hyrule Warriors game, some sort of Paper Mario game for the 3DS. It truly felt like barrel scraping — Nintendo in the process of reusing assets.
Let me rephrase that: a Nintendo in the process of reusing assets whilst holding back the products they are clearly using the majority of the resources to create.
Because seriously — Nintendo is making cool stuff. No doubt about it. Nintendo just chose not to show any of that cool stuff at this year's E3. And I guess that's their prerogative.
But let's talk about what they did show.
Starfox Zero. The next major Starfox game. Personally, I was underwhelmed. I understand that Starfox has a distinct aesthetic but, based on this showing, it looked extremely old fashioned. The textures looked last gen at best, the core style of play seemed a bit loose and flat. Only the transitions — between different types of vehicles — seemed interesting. Asides from that, I am not psyched on Starfox in any way, shape or form.
The Legend of Zelda: Triforce Heroes. It looked interesting, sort of like a reinvention of the Four Swords series we had around a decade ago. That being said, I couldn't help wondering why a multiplayer experience like Triforce Heroes was being developed for the 3DS instead of the Wii U? The Wii U is all about that same screen multiplayer experience — Triforce Heroes would have been perfect for that. How likely are we all to meet up regularly with three 3DS-owning friends to play a game like Triforce Heroes? Aren't we far more likely to gather round a television with three or four controllers? I understand: there are more 3DS units in the wild, Triforce Heroes stands a better chance of being a financial success on that console — but the Wii U needs support and this could have been a cheap and easy way of giving Wii U owners something to look forward to this Christmas.
Metroid Prime: Federation Forge was all kinds of weird. The aesthetic, to begin with, was all wrong. The game itself? Goddamn confusing. It's described as a game with co-op missions set in the Metroid Prime universe. In other words: a spin-off. A strange spin-off I can't make sense of. If you're going to chuck resources into creating a new Metroid Prime game, why make this one? No-one remembers Metroid Prime: Hunters fondly, and no-one wants a weird disparate collection of co-op missions set in the 'Metroid Prime universe'. This announcement frustrated me the most — particularly since it killed stone dead any hope I had of seeing a cool 2D reinvention of Metroid for the 3DS.
What else? The new Mario Tennis looked interesting, but it's Mario Tennis. Yoshi's Wooly World continues to look disarmingly gorgeous, but we knew about that already.
The highlight of the presentation was probably Mario Maker — which is going to result in some pretty bizarre user creations, but looks like a well put together project. But it's not a video game necessarily — it's a set of tools.
Simply put: Nintendo didn't deliver. But it was so clearly their choice not to deliver. Nintendo is holding out on us and I want to see what it is they are working on.
Hurry up please!