Far Cry 5 has been out for a month. Its big open world based in a fictional Montana has been picked clean by millions of people. Collectively they have caught a lot of fish, thrown millions of sticks of dynamite, and been sprayed by a lot of sneaky skunks. Publisher Ubisoft has been contributing weekly live events, new maps to the online Far Cry Arcade mode, and has promised new story DLC in the future, but for the moment the game remains in a holding pattern.

Screenshot: Kotaku (Ubisoft)
Here's a recap of everything players have been doing in and saying about the game over the past 30 days, as well the major new announcements and updates trickling out from Ubisoft.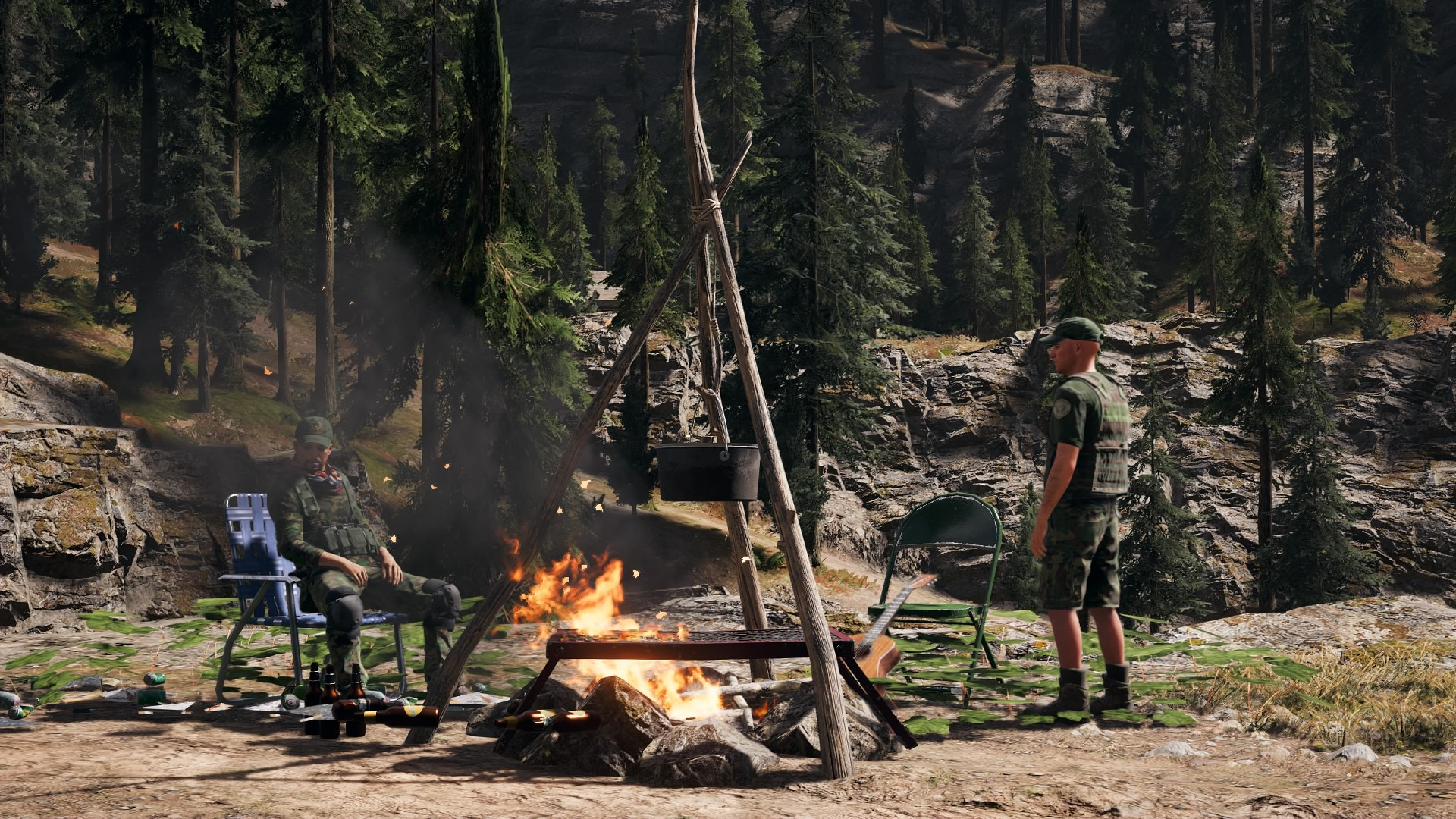 Screenshot: Kotaku (Ubisoft)
Ubisoft releases an extremely helpful Far Cry 5 map tool online on April 4. Unlike the one in the game, it's automatically populated with all the icons representing points of interest, and they don't disappear when you zoom out, making it easier to track down uncompleted quests.
Around this time more and more people start beating the game. In addition to trying to interpret its ending, more than a few get caught in a special bug where the end credits keep looping forever. Far Cry games are known for weird glitches – it's part of their charm – but not being able to keep playing after beating the game effectively amounts to a wiped save file. While players on PC discover workarounds, and Ubisoft patches the game to prevent it from happening in the future, players who have already encountered the bug on PS4 and Xbox One remain in limbo.
Far Cry Arcade Nights begin on April 6, weekly events where new maps are collected from the community by Ubisoft and curated so they're easier to play. Far Cry Arcade remains hard to navigate overall while in the game, although Ubisoft tries to address the issue with an online search tool.
Ubisoft releases the game's second major patch on April 9. It fixes a number of bugs and aims to address stability issues over all as well as problems with coop connectivity and Far Cry Arcade matchmaking. It doesn't add any big new features to the game though, such as a New Game + or harder difficulty setting.
Weird radio static is discovered across various portions of the map on April 10. Looking for more things to do in the world, a small cadre of players try to triangulate the position of whatever mysterious thing the static might be hinting at. Like the Bigfoot search, so far Far Cry 5 doesn't appear to have any big secrets buried beneath the surface, but that doesn't stop the game's most dedicated players from continuing to look.
Weekly Arcade Night livestreams begin on April 13, with Ubisoft community managers streaming the player-made maps that have been highlighted for that weekend, as well as the bonus challenges associated with completing them. The streams don't offer much information about what's coming down the road for the game.
While waiting for word of when the game's first DLC will release, or if Far Cry 5 will ever get extra save slots, players based in Montana begin sharing pictures of real world buildings and landmarks that are the same as what's in the game, such as this church. For now at least, it doesn't appear that the game will be getting the kinds of regular post-launch updates that Assassin's Creed Origins did, at least not as quickly. For as beautiful as it looks, Far Cry 5 still doesn't even have a photo mode.
And that's where things are at. Far Cry 5 was the fastest-selling game in the series' history. Just over four weeks out, however, the lack of continued updates from Ubisoft outside of curating the game's online arcade mode has led to players drifting away.
There's still a solid foundation for the game's developers to continue building on post-launch. If Rainbow Six Siege and Ghost Recon Wildlands are any indication, Far Cry 5's most vibrant days could still be ahead of it.